Temenuzka Petkova: By 2030, 27.9% of energy consumption in Bulgaria will be renewable energy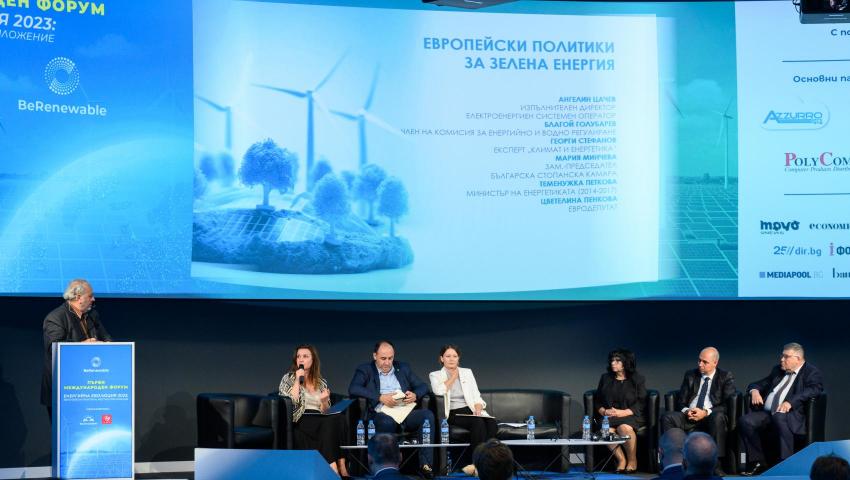 "Bulgaria strives to achieve the national goal of 27.9% of final gross consumption by 2030 to be energy from renewable sources," said Temenuzka Petkova, former Minister of Energy, today during the international forum dedicated to the RES industry, in Sofia - "Be Renewable: Energy Evolution 2023".
She also commented on the changes in the Law on Energy from Renewable Sources (LERS). "The main focus of the law that we passed in the Bulgarian parliament is to reduce the administrative burden for investors who wish to develop RES production. The possibility of creating contact centers providing comprehensive information on the construction of RES, as well as energy communities, which will enable installers and household users to participate in the production, consumption and sale of excess electrical energy for them, is envisaged. This is a very good step forward towards the development of green technologies".
Among the official guests of the event and speakers were also Nikolay Pavlov, Deputy Minister of Economy and Industry, Tsvetelina Penkova, MEP, Tsvetan Simeonov, Chairman of the Board of the Bulgarian Chamber of Commerce and Industry, Angelin Tsachev, Executive Director of the State Electricity System Operator (ESO), Blagoi Golubarev, member of the Commission for Energy and Water Regulation (EWRC), Maria Mincheva, vice-president of the Bulgarian Chamber of Commerce (BCC) and others.
"Be Renewable 2023" is the first event in Bulgaria that will bring together the institutional and technological achievements of the sector in Europe. The two-day conference takes place on October 2-3 at the Inter Expo Center, and the entrance to the event is free, and participants can familiarize themselves with the interesting program and register here. The event is organized by "Solar Academy Bulgaria" association and M3 Communications Group, Inc.
"Be Renewable 2023 is a meeting of experts and practitioners, of visionaries who believe that the future of energy is in renewable sources. At the forum, we will also look at innovative technologies, sustainable business models and financial solutions. We will get acquainted with European practices that can be successfully implemented in our country. We will study how to create and manage renewable energy projects, while at the same time maintaining fairness and environmental sustainability," said Dr. Eng. Veselin Todorov, Chairman of the Solar Academy Bulgaria association.