The protests of miners and energy workers continue, but today there will be a meeting with the government and MPs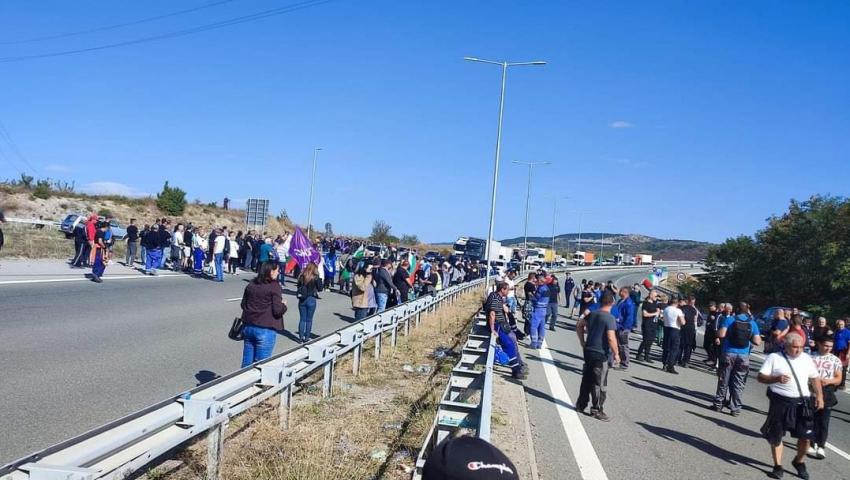 Representatives of the protesting miners, who have blocked AM "Trakia" and AM "Struma" will meet with the authorities today (on Monday, October 2 - translator's note).
"Today there will be a meeting. We accepted this invitation, but under certain conditions. Yesterday, from our stated position of six demands, one of the conditions was that the meeting be held with representatives of the protestors and the parliamentary parties in the National Assembly. If not all parliamentary groups there will be no talks," Biser Binev told bTV.
Blockades on the Trakia and Struma highways remain as the meeting continues.
The dissatisfaction of the protestors of AM "Struma" continues. Yesterday, the demonstrators managed to block traffic and spent the night on the highway. Today, representatives of the protesters will go to the meeting in the parliament.
"We will not go to a meeting with Prime Minister Denkov. Just yesterday he invited us to a meeting somewhere on some floor of an administrative building. We will go to the meeting in the parliament. Let's tell the people why we are here, because it continues to linger in the public space that some people are doing some stupid things. The problem is that in just two years, Bulgaria can return to the years of communism," said Mario Ninov, the chairman of the strike committee of KT Podkrepa.
Prime Minister Academician Nikolay Denkov changed the meeting place with the protesting energy workers and miners last night after they did not confirm their presence at the talks in Radnevo, to which the Prime Minister invited them earlier and wished to present their demands in relation to the territorial plans in the parliament. The press service of the Council of Ministers announced that the talks will take place today, at 11:00 a.m., in hall 134 of the National Assembly.
The meeting is expected to include the ministers of energy, regional development and public works, and economy and industry. Leaders and people's representatives from the political parties that support the government will also participate, the press release says.
Prime Minister Nikolay Denkov invited the protesting miners and energy workers to a conversation about the concrete steps of the energy transition in the coal regions of Stara Zagora, Pernik and Kyustendil. The meeting was expected to take place at 11:00 a.m. in the administrative building of "Mini Maritsa-East" EAD in Radnevo. The prime minister's invitation was addressed to more than 30 representatives of the trade unions at the national, regional and local level in the three regions and in the enterprises affected by the plans for Bulgaria's gradual exit from coal energy by 2038.ethics, but they did not come to the meeting in The Council of Ministers.