Minister Stoycheva and representatives of Arizona State University discussed cooperation in the field of microelectronics industry
The Minister of Innovation and Growth is visiting Washington, where he will participate in the Bulgaria-USA Strategic Dialogue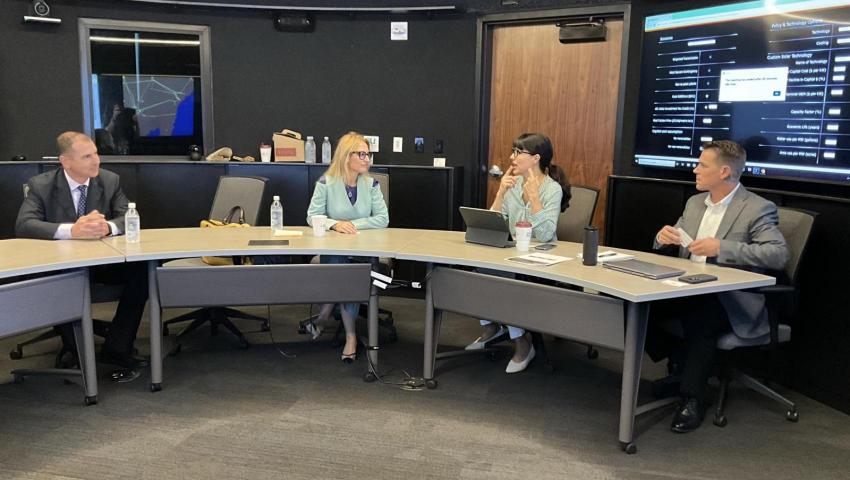 The Minister of Innovation and Growth, Milena Stoicheva, and Arizona State University representatives from the Design Institute and the Global Future Laboratory discussed cooperation in the field of microelectronics industry. The meeting was held at the Center for Decision Making of the University of Washington, where the Deputy Minister of Innovation and Growth Prof. Georgi Angelov was also present. The two are visiting the American capital, where they will participate in the Bulgaria-USA Strategic Dialogue.
In terms of microelectronics, the focus of the conversation was the expansion of expertise in the various parts of the chip development and supply chain, training and retraining of specialists, building and expanding infrastructure.
Minister Stoycheva presented the vision of the government and the ministry for the development of innovations in our country based on scientific and development activities for the creation of products and services with high added value to our economy and the rebranding of Bulgaria as a place for high-tech investments.
"Research and development is extremely important for the creation of innovations. One of our leading priorities is to support the science-business connection, to encourage companies to use the capacity of the academic community and to commercialize their developments in their productions," stressed Minister Stoicheva. She stated that the Ministry of Innovation and Growth will work closely with Bulgarian universities and businesses, with the creation of innovation valleys among the main goals of the department. "Bulgaria has talents and a huge potential for development in the field of high technologies", emphasized Minister Stoicheva and stated that through the development and implementation of innovations, Bulgaria and Europe will increase their competitiveness at the global level.
Among the leading topics of the meeting was a decision-making model developed by Arizona State University and its application to drive innovation in solving socio-economic challenges such as a just transition to a green economy, energy sustainability and professional employment.
Emphasis was also placed on the modernization and reform of higher education related to the introduction of new technologies, artificial intelligence and their applications, creation of qualified specialists in engineering sciences and technologies, entrepreneurship, innovation, creative industries, healthcare and culture.
The meeting also discussed the transformation of the energy sector in order to reduce the carbon footprint and implement low-emission energy technologies, technological development and commercialization of technologies.