The Ecominister discussed cooperation and the development of the hydrogen economy with the Egyptian RES delegation
The aim is to deepen the cooperation between Bulgaria and Egypt. There is no information that representatives of the Ministry of Energy were present at the meeting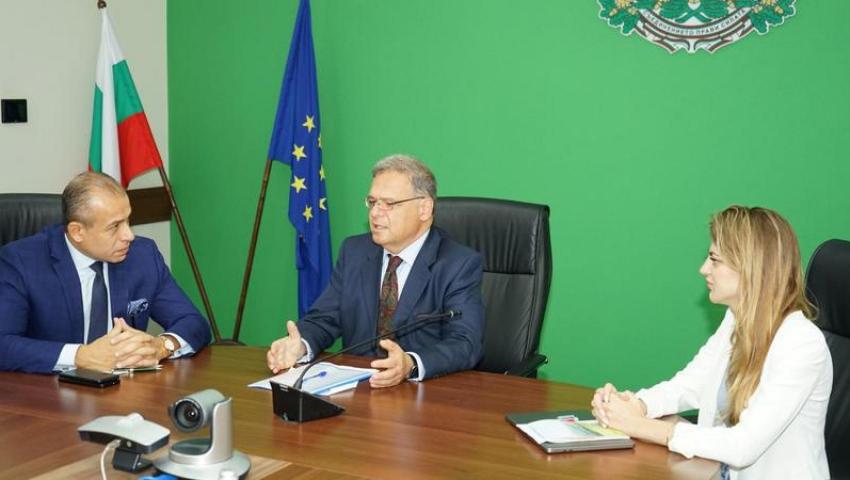 The Minister of Environment and Water Yulian Popov held a meeting with an Egyptian economic delegation led by the Deputy Minister of Trade and Industry Mr. Yaha Ahmed, representatives of the Ministries of Energy and Transport and the Investment Agency of Egypt. This was announced by the Ministry of Environment and Water.
The main topic of the talks was the expansion and deepening of cooperation in the field of RES and the hydrogen economy. Minister Popov pointed out that hydrogen is a key priority for realizing the Green Deal and the transition to clean energy. Its implementation will contribute to the achievement of ambitious climate goals, reducing greenhouse gas emissions by 55% by 2030. The share of hydrogen in Europe's energy mix is expected to grow from the current below 2% to 13-14% by 2040.
At the moment, there is no information that the Egyptian delegation met with experts from the Ministry of Energy.
The use of hydrogen has the potential to improve security of energy supply and reduce CO2 emissions. The assessment was shared that hydrogen enables the large-scale integration of renewables that we currently need to achieve the most important requirements of the modern economy – to become circular, as well as to ensure sectoral integration.
Minister Popov informed the Egyptian delegation about Bulgaria's preparations for participation in the upcoming 28th Conference of the Parties to the United Nations Framework Convention on Climate Change (COP 28), which will be held in Dubai, UAE in the period November 30 - December 12, 2023 He undertakes to present a list of the companies that will participate with presentations in the Bulgarian pavilion.
The challenges facing both countries related to waste management, and more specifically recycling and the transition to a circular economy, were also discussed.