The Prime Minister in Thessaloniki: Let's work hard for the development of the South-North corridor, there are projects worth billions
We have shown the new high-tech face of Bulgaria, said the Prime Minister at the closing of the Thessaloniki Fair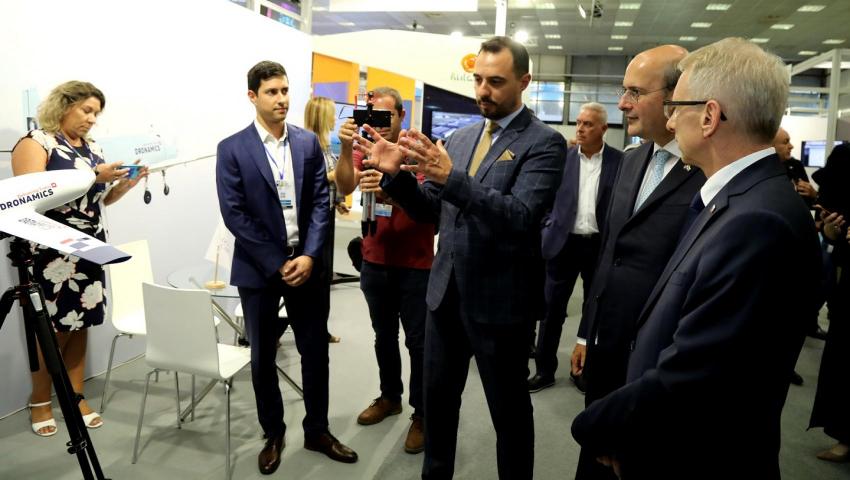 More than 1000 business meetings between different companies and ready-made projects of Bulgarian companies working or starting a partnership in Greece are only part of the results achieved with the Bulgarian participation in the Thessaloniki International Fair. This year, Bulgaria is an honorary country participant in the largest trade exhibition in Greece. "We showed the new face of Bulgaria with high technologies. Our country looks modern and attractive to our neighbors. This is a very good basis for the upcoming talks between the governments of Greece and Bulgaria", said Prime Minister Academician Nikolay Denkov, who arrived in Thessaloniki for the closing of the International Fair.
The excellent relations between Bulgaria and Greece at the political level are complemented by the great potential for cooperation at the economic level. The ambition of the Bulgarian government is to work hard for the development of the South-North corridor. We are talking about projects worth billions, that's why the first step is designing, said Academician Denkov. The relevant ministries - of finance, of economy and industry, and of transport and communications, will work as a priority on the preparation of projects that are the basis for the implementation of each initiative. Additional specifics will be discussed at the upcoming tripartite meeting of the prime ministers of Bulgaria, Romania and Greece next month near Varna.
Bulgaria and Greece have the potential to jointly create an energy and transport hub in South-Eastern Europe, the importance of which will be not only on a regional, but also on a pan-European scale, Prime Minister Academician Nikolay Denkov also stated in his speech at the "Ioannis Velidis" congress center within the framework of at the official closing part of the Thessaloniki International Fair. The Prime Minister highlighted the strategic importance of the partnership between Bulgaria and Greece. Examples in this direction are the intersystem gas connection and the liquefied gas terminal near Alexandroupolis, in which Bulgaria has a 20 percent stake. Our country is also interested in the plans for the future development and management of the Greek ports of Kavala and Alexandroupolis. In addition, the "Sea2Sea" initiative aims to connect the Bulgarian ports on the Black Sea and the Danube River with the Greek ports in the Aegean Sea through modern transport, energy and communication infrastructure. In practice, this would be an alternative route to the Bosphorus and the Dardanelles, Academician Denkov pointed out.
The Bulgarian Prime Minister used the occasion to send a strong message of solidarity with Greece in connection with the severe consequences of the floods in our southern neighbor. The Prime Minister reminded that Bulgaria also faced a serious disaster that caused damage and casualties. Climate change is a global challenge that requires a common response. We need to work more closely together, share information and technology, integrate our weather forecasting and early warning systems to better prevent disasters in the future. I can assure you that we are ready for such mutually beneficial cooperation, Academician Denkov also stated.