Our trade with China will reach an unprecedented $4.1 billion in 2022
We are in active dialogue with a strategic investor in manufacturing from Asia, Pulev also pointed out at a meeting with Ambassador Dong Xiaojun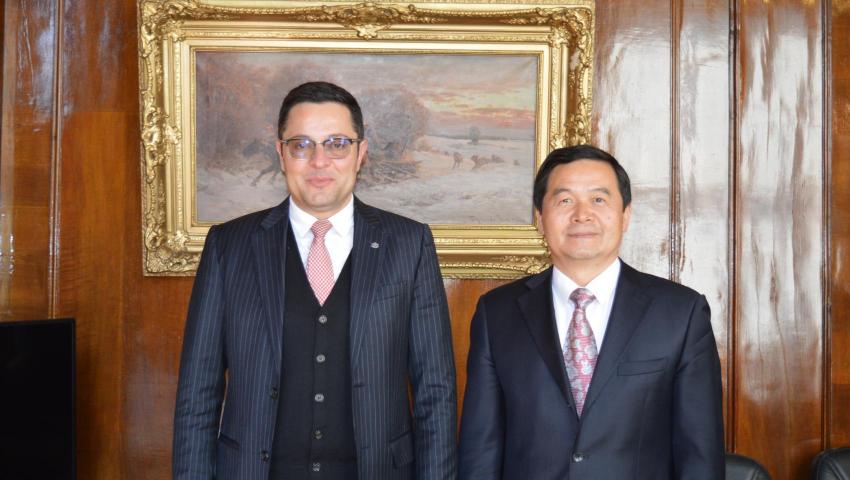 In 2022, bilateral trade between Bulgaria and China reaches a peak value of USD 4.1 billion. The People's Republic of China ranks second among our export partners outside the European Union, right after Turkey. Trade between the two countries in the period 2011-2021 amounts to more than 25 billion USD. This became clear during a meeting between the Minister of Innovation and Growth Alexander Pulev and the Ambassador of the People's Republic of China to our country H.E. Dong Xiaojun.
"The main policy of the Ministry of Innovation and Growth, as the line ministry responsible for foreign investments, is to develop the dialogue with priority strategic partners. The Bulgarian state is conducting active talks with investors from Asia, who see in us both political will and support at all levels," Minister Pulev said during the meeting.
According to him, the state works in complete synchronization from the level of the president, prime minister, cabinet ministers to the level of local government representatives, and this is key to attracting investors in our country. Pulev also said that Bulgaria receives a number of inquiries from Asian companies that want to use our country as a platform to sell on the common European market.
At the meeting, the active policy of Bulgaria to create prerequisites for the attraction of large-scale production for over 1 billion euros with a focus on the automotive segment and other priority sectors was discussed. Minister Pulev introduced the Chinese ambassador to Bulgaria's efforts to unlock administrative and financial resources for setting up industrial zones to attract large international investors, which will be key to the Bulgarian economy and the creation of jobs.
"The government took a decisive and groundbreaking step in this direction, namely the establishment of the first ever state economic zone "Dobroslavtsi" with a focus on the automotive segment and related industries," the minister said. He stressed that the zone is located 15 km from the center of the capital, close to labor and that it will be built according to best practices to meet the standards of foreign investors for clean and green production.
In addition to the designation of a specialized economic zone, within a few weeks the Ministry of Innovation and Growth, under the Recovery and Sustainability Plan, will launch a procedure for BGN 212 million for the development of industrial zones and parks already existing in our country, it became clear during the meeting.
Minister Pulev presented Ambassador Xiaojun with the Startup visa, which the MIG developed so that foreign entrepreneurs from countries outside the European Union can come to Bulgaria and found and develop innovative businesses using high technologies and developing research and development activities.
The meeting was also attended by the Deputy Minister of Innovation and Growth Stefan Savov and the Deputy Executive Director of the Bulgarian Investment Agency Hristo Etropolski.