Mobility and industrial zones and parks will be strategic operations under the Regional Development Program 2021-2027.
The first phase of integrated territorial investments is expected to be announced in May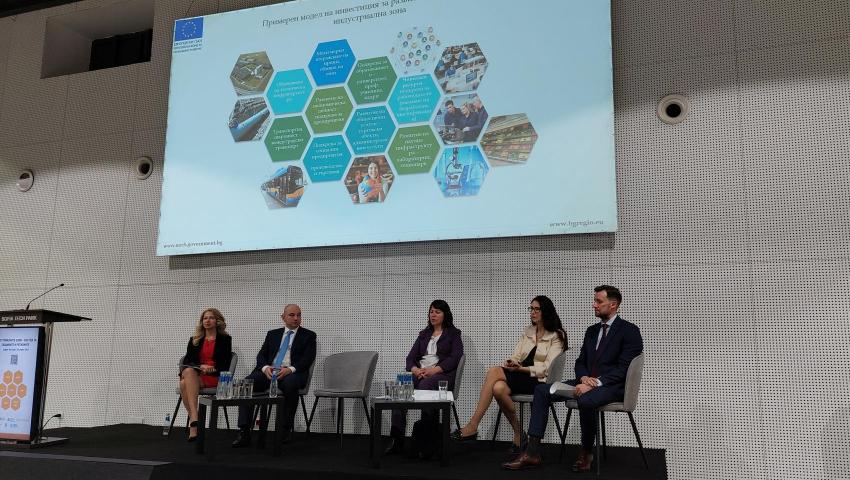 "After Saint George's Day, phase 1 of the integrated territorial investments under the 2021-2027 Regional Development Program is expected to be announced." This was announced by the Deputy Minister of Regional Development and Public Works, Angelina Boneva, during today's "Industrial Zones - Growth" forum for municipalities and regions" with the participation of the Deputy Prime Minister for European Funds Management Atanas Pekanov and the Minister of Innovation and Growth Alexander Pulev.
For the financing of the integrated territorial investments, five more programs are also relied on, the budget of which is co-financed with European funds. According to phase 1, through ISUN, applicants will submit a concept for a given investment, which includes a summary of the planned investments, main partners and budget, explained Boneva. I hope the regional development councils will prioritize the concepts and start phase 2 in the fall - submission of a full project proposal.
Among the key requirements for the concepts of integrated territorial investments is the partnership approach and the unlocking effect regarding the development of the territory. The idea is not to work "piecemeal", but to combine sectoral investments. Thus, in practice, the Regional Development Program builds on the sectoral approach. Financial instruments and combined financing are planned again, and successful examples in this direction were shown at the forum - Burgas, Yambol, Vratsa, Ruse, etc.
Strategic operations under the program will be mobility and industrial zones and parks.
Investments under the urban priority of the RDP with a total budget of BGN 1 billion are focused in the ten largest urban municipalities, and there will no longer be a limit to the territory of the municipal center, the so-called building boundaries of the city. For the first time there will be regional budgets set aside in the six regions for planning with over 56% of the funds targeted for Northern Bulgaria. This will be done under the second priority, targeting 40 smaller municipalities. The total amount of the budget for the regional priority is over BGN 2.5 billion.