The investments of Greek companies in our country amount to BGN 6 billion
Another meeting in the format of "breakfast for investors", initiated by Minister Nikola Stoyanov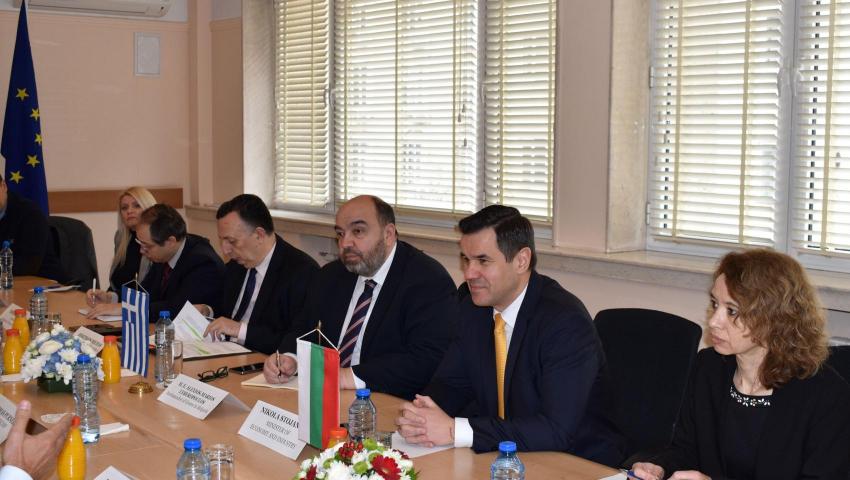 More than 18,000 Greek companies are developing activities in Bulgaria, and the total amount of investments from our southern neighbor is nearly BGN 6 billion. This became clear during a meeting of the Minister of Economy and Industry Nikola Stoyanov with representatives of Greek business in our country. Alexios-Marios Liberopoulos, Ambassador Extraordinary and Plenipotentiary of the Hellenic Republic to Bulgaria, also took part in the discussion. This is another meeting in the format of "breakfast for investors" initiated by the Minister of Economy. From the minister's statement, it was not clear for what period the funds were invested.
About 46% of Greek companies are located in Blagoevgrad, 39% in Sofia, 7% in Plovdiv, 2% in Haskovo and 6% in other regions of Bulgaria. "The data show that Greek companies provide more than 60,000 jobs in Bulgaria, and that is why it is so important to have an operational relationship and to discuss all the difficulties you encounter," stressed Minister Nikola Stoyanov, as quoted by his press center. According to him, the meeting was organized after discussions with Ambassador Alexios-Marios Liberopoulos. "It is positive that the number of strategic projects between our two countries is also increasing," said Minister Nikola Stoyanov and gave the example of joint initiatives in the field of energy.
"A few months ago, we also held another important conversation about the future of our cooperation in the economic field - how Bulgarian and Greek companies can partner for a greater presence on the international market," Nikola Stoyanov explained. He emphasized that for this purpose the events at the business level between the two countries are very important. "Bulgaria and Greece can also partner in attracting large foreign investors. In order to achieve it, the most important prerequisite is not to accept ourselves as competitors, but as partners," added Minister Stoyanov.
Almost 30% growth is reported in the exchange of goods between the two countries in 2022, it became clear during the meeting. "We are reaching a record value of 5.9 billion euros, for which you - the representatives of the Greek business in our country - should be congratulated, because you are among the drivers of this increase," said Nikola Stoyanov. The data show that there is potential for expanding cooperation in a number of sectors - food industry and fast-moving goods, bioproducts, furniture industry, cosmetics, including in terms of creating joint ventures for joint entry into third markets, etc.
The "breakfast for investors" initiative aims for foreign companies in our country to have a direct connection with the minister in charge to present the problems they encounter, as well as their potential plans for the expansion of their projects.