With the support of EBRD, Bulgaria will explore all possibilities for energy storage
Energy Minister Rosen Hristov signed key agreements with the European bank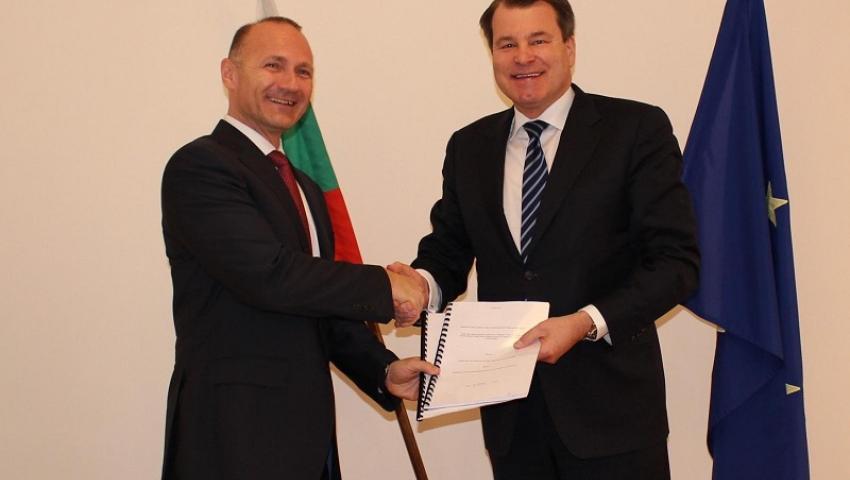 The Minister of Energy, Rosen Hristov, and the First Vice President of the European Bank for Reconstruction and Development, Jürgen Rigterink, signed two agreements that are key to the National Plan for Recovery and Sustainability. The agreements are for the support of new capacities for the production of electricity from renewable sources and the storage of electricity and for the national infrastructure for the storage of electricity from renewable energy sources (RESTORE). Both projects are of extreme importance for ensuring the possibilities of including the new RES capacities.
The Ministry of Energy and the European Bank for Reconstruction and Development worked closely together to structure the scope of assignments in order to realize the national vision for the projects, while ensuring compliance with Bulgaria's Recovery and Sustainability Plan. In the signed version of the agreements, the EBRD will conduct a thorough analysis of all existing energy storage technologies and determine the most suitable ones for Bulgaria. It will then organize tenders for two turnkey delivery systems ie. complete design, supply of equipment, construction and commissioning. This will ensure maximum benefits for the Bulgarian energy system from the planned storage capacity. According to Minister Hristov, the broad scope of the assignments guarantees maximum protection of the public interest, while at the same time the indisputable capacity of the EBRD, which is practically more closely involved in the entire process of project implementation, will be used to the fullest extent. He thanked the representatives of the institution for their flexibility and understanding, as well as for the efforts of the two teams to comply with the deadlines under the NPVU.
During the meeting, a number of other upcoming opportunities for cooperation were discussed and specific initiatives were identified. Also participating in the talks were: Deputy Ministers of Energy Iva Petrova and Elenko Bozhkov, as well as Karina Karaivanova - representative of Bulgaria in the Bank's Board of Directors, Mark Davis - Regional Director for Romania and Bulgaria, Anka Ionescu - Director for Bulgaria, Chris Basinski - chief economist and Svetlin Pislenski – deputy director.