From 2024, the Alexandroupolis terminal will provide access to significant quantities of gas from alternative suppliers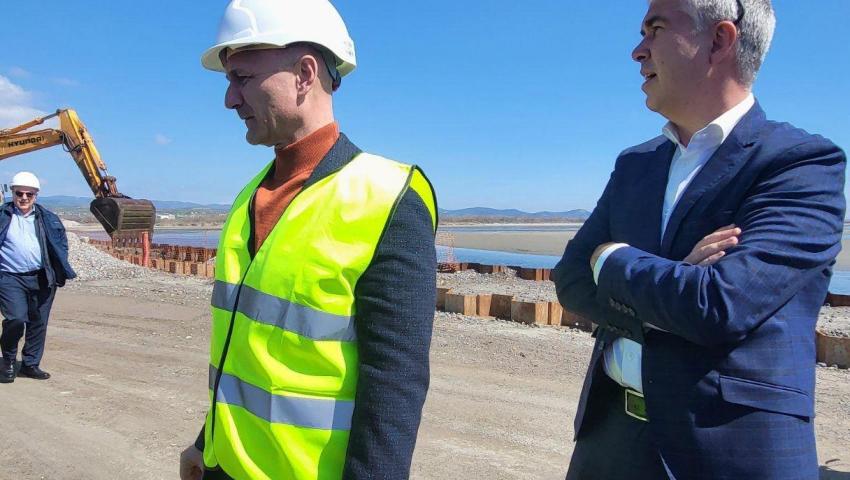 Energy Minister Rosen Hristov and the executive director of Bulgartransgaz EAD Vladimir Malinov inspected the construction activities of the liquefied natural gas terminal near Alexandroupolis, Greece. The Bulgarian gas transmission operator owns 20% of the terminal.
Representatives of the management of the project company Gastrade S.A. presented on site the progress in the construction of the terminal and the accompanying infrastructure. Plans to put the facility into operation from early 2024 were confirmed.
Vladimir Malinov emphasized the importance of infrastructure for Bulgaria and the countries of South-Eastern Europe. "The terminal in Alexandroupolis will provide new quantities of gas at competitive prices for the markets in the region and improve their liquidity," he emphasized during the inspection. "The new liquefied gas storage and regasification capacity is also important for LNG producers and will allow to avoid LNG infrastructure overloads and the lack of slots in the region, which we witnessed in 2022," Malinov added.
"We expect from next year to be able to supply 10 tankers of liquefied natural gas annually through this infrastructure," commented Energy Minister Rosen Hristov during the inspection. This amount represents about a third of the consumption in the country.
The executive director of Bulgartransgaz also drew attention to the synergy of the terminal with the Chiren gas storage expansion project. "The availability of sufficient gas storage capacity is key to increasing LNG supplies and diversification in the region," he stressed.
The "Alexandroupolis Independent Natural Gas System" has a design capacity for regasification of 5.5 billion m³/natural gas per year. The LNG storage capacity of the facility is 153,500 thousand m³. Among the potential sources of supply are countries producing liquefied natural gas such as Algeria, Qatar, the United States, etc.
In addition to Bulgartransgaz, shareholders with 20% each in the project company building the terminal are the Greek gas transmission operator DESFA, Gaslog Cyprus Investment, DEPA Commercial and Mrs. Elmina Kopelousou. Shareholders made the final investment decision for the project in early 2022, and construction began last summer.