Modernization of the "Hydroelectricity Enterprise" of NEC in Plovdiv begins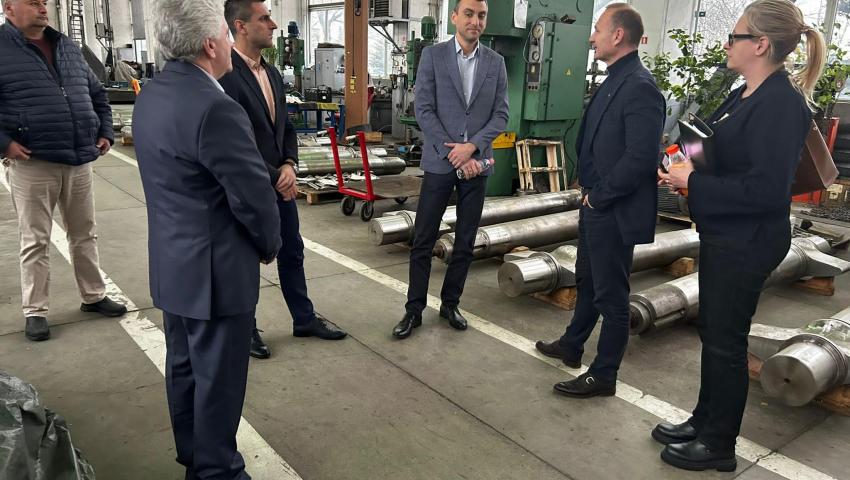 The Minister of Energy, Rosen Hristov, visited the Central Office of the Hydroelectric Plant of NEC in Plovdiv, where a meeting was held with employees of the enterprise and representatives of trade union organizations. This is the first visit of an energy minister to the headquarters of the enterprise. As part of his visit, Minister Hristov had the opportunity to familiarize himself with the activities of the Development and Repair Base at the enterprise, reported the press center of the National Electric Company (NEC).
During the meeting, the executive director of the National Electric Company, Eng. Martin Georgiev, presented the vision for the development of the enterprise, including plans for modernization and improvement of various aspects of the activity, including the finalization of the organizational process for the centralization of certain activities, a strategy for increasing qualifications of employees and improving the level of safe working conditions.
Employees from PVPP were confident that the purpose of all innovations is to improve the overall performance of the company, to preserve the role of NEC as a technological leader in the field of electricity production from hydroelectric plants and to realize the high expectations for the development of new production capacities.
Minister Hristov expressed his excellent impressions of the professionalism and competence of the company's employees. He assured them of his support for the introduction of sustainable new practices and innovative solutions, which will undoubtedly have an overall positive effect on NEC's activities and, last but not least, will contribute to the good dialogue between all participants in the company in the long term.
Hydroelectric power plants is a part of National Electric Company EAD. The headquarters of the enterprise is in the city of Plovdiv. The main activity of PVPP is the production of electric energy, construction and repair activity in the field of electricity production from hydroelectric power plants and investment activity. P HPP maintains and operates 31 plants (HPP and PAVEC) with a total installed capacity of 2737 MW. The main production is carried out by fourteen large hydroelectric plants, part of the Belmeken Sestrimo Chaira, Batak, Vacha and Dolna Arda cascades.