Minister Pulev at the UN conference in Doha: There is untapped potential in the development of joint investment initiatives with the least developed countries
Bulgaria consistently supports the least developed countries, Pulev stressed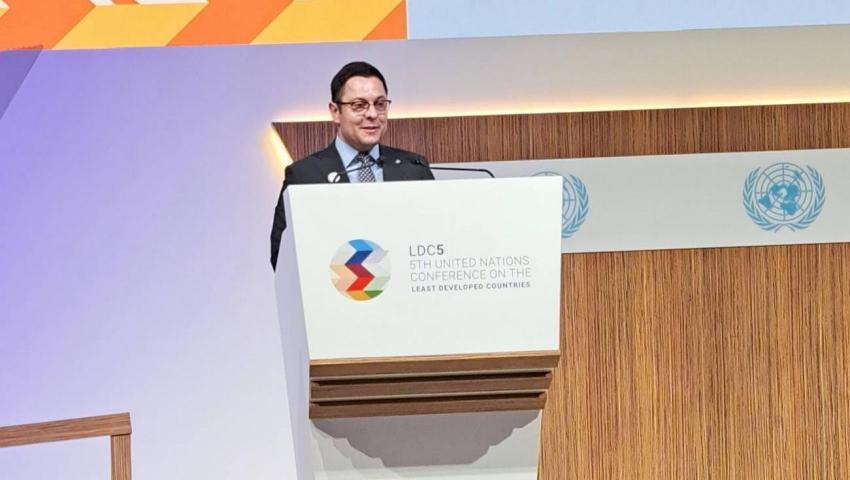 Bulgaria sees the least developed countries as an economic partner. There is untapped potential in the development of common investment initiatives. We can help improve life in these countries through Bulgarian innovations and high technologies. This was stated by the Minister of Innovation and Growth, Alexander Pulev, during the Fifth UN Conference on Least Developed Countries (LDCs), which is being held in Doha, Qatar. The Minister of Innovation and Growth is the head of the Bulgarian delegation at the conference, which is attended by leaders of over 150 countries, representatives of European and international institutions, heads of UN funds, agencies and programs, international companies, etc.
In his speech at the forum, Minister Pulev emphasized that Bulgaria is built on the pillars of solidarity. "We are an ancient country with long-standing traditions and a rich history. We have overcome a series of political and economic crises. For this reason, we, as a nation, have a deep understanding of the challenges facing the least developed countries today," he said.
According to him, our country has consistently supported the least developed countries over the years, and Bulgaria's assistance to these countries has so far been provided in various ways, including direct financial, debt forgiveness, through training and education programs focused on IT, Engineering and Mathematics. "Bulgaria has donated vaccines to the Republic of Bangladesh and the Kingdom of Bhutan. We have recently developed new trade and economic ties with Cambodia, Ethiopia and Nigeria," Pulev also gave an example.
"We see untapped potential in the development of common investment initiatives with the least developed countries as our strategic partners. We firmly believe that the most effective way to support them is not by selling goods and services. We need to support the least developed countries to increase their export potential, to create local value chains, to create local production facilities," the minister of innovation also told delegates at the international conference.
He emphasized that Bulgaria is already taking significant steps in this direction. "Bulgarian fintech companies are investing in Africa, in Southeast Asia, setting up offices, hiring local talent. These investments are highly relevant as many of the NIS still do not have access to traditional banking services. Bulgarian companies are developing mobile banking and identification services, as well as providing structured access to microfinance, so that the local population can start businesses and develop their talents," he added.
In his speech at the Forum, the Minister of Innovation and Growth also gave examples. "We have Bulgarian nanosatellite companies partnering with NSC governments to provide early detection of natural disasters, minimize economic impact and save lives. We have emerging Bulgarian cargo drone companies that want to provide logistics services in Africa and other regions with underdeveloped road infrastructure. These enterprises will create local production facilities to support the economies of the least developed countries," announced Pulev and concluded that the course we are following is joint investment initiatives and technology transfer for sustainable economic contribution and development.