Bulgartransgaz, ICGB and gas companies from the region renewed the memorandum for the Vertical Gas Corridor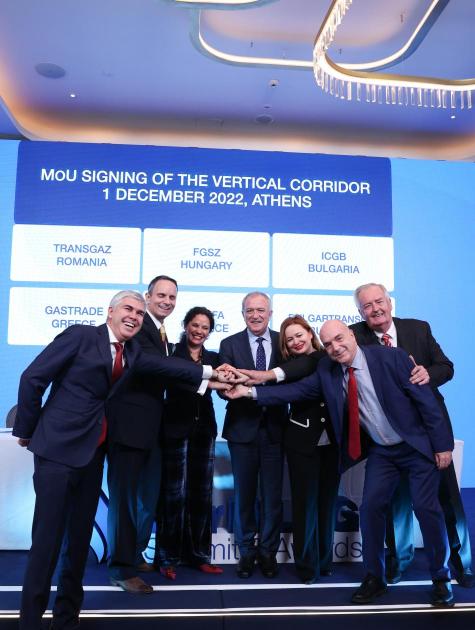 The Memorandum of Understanding on the "Vertical Gas Corridor" was renewed today, December 1. To the gas transmission operators "Bulgartransgaz" EAD, "ICGB" AD, DESFA S.A., FGSZ Ltd. and Transgaz S.A. Gastrade S.A. also joined. - the project company implementing the liquefied natural gas terminal near Alexandroupolis, in which Bulgartransgaz EAD is a co-shareholder with a 20% stake, the transmission operator announced.
The memorandum was signed by the executive director of Bulgartransgaz EAD Vladimir Malinov, Georgius Satlas and Teodora Georgieva (ICGB), Maria Gali (DESFA S.A.), Janos Feher (FGSZ Ltd.), Ion Shterian (Transgaz S.A.) and Konstantinos Sifnaios (Gastrade S.A. ).
The memorandum was signed within the framework of the "22nd World LNG Summit & Awards". The conference is the leading platform in the region to exchange best practices and discuss trends related to LNG supplies.
During the official ceremony, the CEO of Bulgartransgaz, Vladimir Malinov, noted that the projects for future LNG terminals and access to alternative sources of natural gas through the Southern Gas Corridor create a new energy portal to Europe. "Our common actions are important not only for the EU countries, but also for the members of the Energy Community," said Malinov.
We remind you that at the end of October, Bulgartransgaz signed a gas access and transmission contract with the Moldovan state gas supplier "Energocom" and an interconnection agreement for the Kyustendil/Zhidilovo point with the Macedonian gas transmission operator "GA-MA" AD.
The projects of "Bulgartransgaz" EAD in the process of implementation - the expansion of the underground gas storage "Chiren" and the interconnector Bulgaria-Serbia (IBS) are of primary importance for the achievement of the objectives of the Memorandum, emphasized Mr. Malinov. Along with the planned projects to increase transmission capacities from Greece to Bulgaria and from Bulgaria to Romania and North Macedonia, they will ensure additional diversification of natural gas supplies for the country and the region, guarantee energy supply and increase competition, he said.
The accession of Gastrade S.A. to the memorandum reflects the growing role of liquefied natural gas for the European gas mix in the long term. It will help to achieve the goals for the implementation of the initiative for the Vertical Gas Corridor, which will provide a route for the supply of significant quantities of natural gas from the south to the north.
The memorandum is fundamental for strengthening cooperation between the countries and increasing the share of alternative sources of natural gas, including liquefied natural gas, in the energy supply of Central and South-Eastern Europe.
By signing the document, the parties confirm the common aspiration for harmonized infrastructural development in the region, taking into account the recommendations of the high-level group on the interconnection of the gas transmission system in Central and South-Eastern Europe (CESEC) and the energy strategies in the pan-European energy policy of the EU.