President Radev: Bulgaria has the potential to produce the energy of the future - green hydrogen and to become a regional leader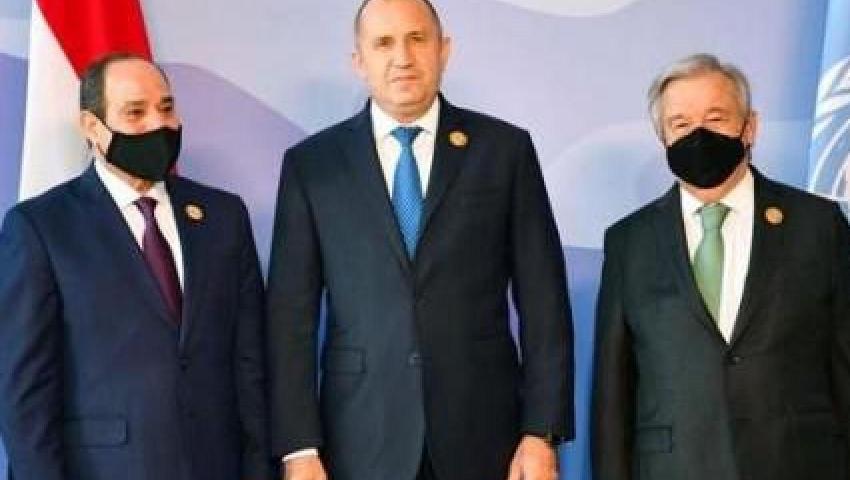 "Bulgaria is very active, especially in our region, in terms of flexible approaches to the production of electricity, its storage and the transmission of energy resources." This is what President Rumen Radev told journalists after the official opening ceremony of the Summit of Heads of State and Government participating in the 27th Conference of the Parties to the United Nations Framework Convention on Climate Change (COP27), hosted by Egypt.
Radev added that our country has the potential to produce the energy of the future – green hydrogen, and to become a regional leader with modern and ecological systems based on natural resources for storing energy. "We have the resources for the purpose, investments are needed not only from the Bulgarian side, but together with our partners to join our efforts for mutually beneficial projects," said Rumen Radev. He pointed out that our country has regained its influence in the region with the commissioning of the Greece-Bulgaria gas connection, but it has and must use its potential not only to transport energy sources.
The transition to climate neutrality must be well thought out, smooth, socially and economically fair, so that it increases people's well-being and not decreases it, the Bulgarian president explained. The official speech of President Radev is expected to be on November 8, and there are hopes that he will make a request for our country to host the world climate meeting in 2024.
"Climate changes are a fact - every year thousands of people die from natural disasters, and entire countries are doomed to famine and disasters," said Rumen Radev and pointed out that the complicated geopolitical situation requires flexible approaches and rational thinking to solve problems.
The Bulgarian head of state noted that an extremely important topic at COP27 is precisely the distribution of resources for activities mitigating climate change. "I expect that we will achieve unification of efforts to create funds for investments in new technologies to solve the problems of limited finances on a global scale," said Rumen Radev, taking into account the complex situation related to the war in Ukraine, the energy crisis, the economic crisis, the high inflation. The President added that in the current geopolitical situation, a number of countries rely on fossil fuels, and a large part of the investments are aimed at strengthening the countries' security. This means that new, even more avant-garde technologies are needed so that we can solve climate problems with the means at our disposal, added the president.
Within the framework of the international forum, the Bulgarian head of state participates in bilateral meetings and high-level discussions. Among the members of the delegation led by the president are the Minister of Environment and Water Rositsa Karamfilova and the Minister of Energy Rosen Hristov.