The Bulgarian Development Bank with a new credit program for energy efficiency of small and medium-sized businesses
The program is in the amount of 30 million BGN and small and medium-sized companies applying under OPIK will be able to benefit from it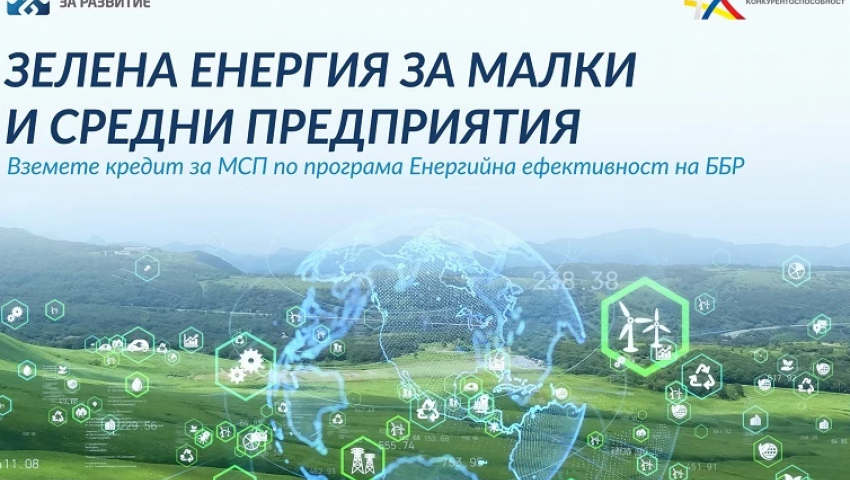 The Bulgarian Development Bank supports companies in the "Manufacturing Industry" sector in our country in their transition to a green and low-carbon economy through its new "Energy Efficiency of SMEs" program. The need for such investments for small and medium-sized businesses is no longer just a matter of strategy for a green transition and climate protection, but a necessity. The reason is the uncertainty of the energy markets and the consequences of the COVID-19 pandemic, the Ministry of Innovation and Growth reports.
As a measure to overcome them, the Ministry of Innovation and Growth - Managing Authority of OP "Innovations and Competitiveness" 2014-2020 (OPIK) conducted a procedure for projects "Restoration of SMEs by improving energy efficiency", the acceptance of which ended at the end of May. By mid-September, 920 Bulgarian companies will go through the procedure for negotiating the funds under the procedure, and immediately after concluding the contracts, the companies will be able to proceed with the implementation of their projects, as announced yesterday by the Ministry of Innovation and Growth.
In the meantime, the BDB has created an additional opportunity for micro, small and medium-sized enterprises participating in the procedure. They will be able to take advantage of direct loans in the amount of BGN 100,000 to BGN 500,000. With them, it will be possible, for example, to cover the 50% co-financing required under OPIK or to carry out additional activities to improve energy efficiency. The financial instrument will also be available to companies that have not been approved for European funds.
Its advantages are 100% financing of the project without VAT, the possibility of granting a loan even before signing a grant contract, as well as minimum collateral requirements, given the nature of the activities. Companies that have already invested funds can apply for their full reimbursement, as long as the expenses were incurred after the date of submission of the project proposal under OP "Innovations and Competitiveness".
The BDR program has a total value of BGN 30 million. The goal is to accelerate the introduction of energy-saving technologies in production, which will lead to a reduction in the electricity consumed by external suppliers.