Deputy PM Vassilev: drastic drop in grain supplies could trigger new wave of refugees
Asen Vassilev participates in the regular meeting of the EU Economic and Financial Affairs Council in Luxembourg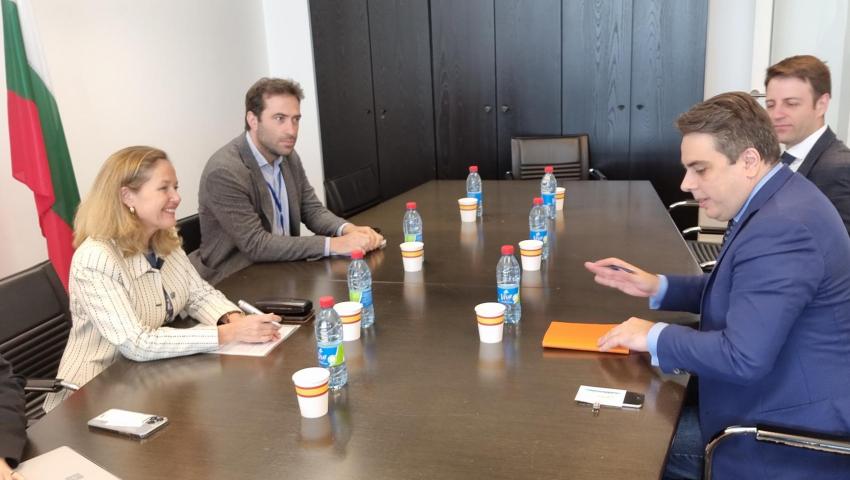 The finance ministers of the 27 EU member states held their regular monthly meeting in Luxembourg yesterday. The Deputy Prime Minister for EU Funds and Minister of Finance Asen Vassilev took part in the EU Economic and Financial Affairs Council (ECOFIN). He also held bilateral meetings with the President of the Eurogroup and Minister of Finance of Ireland Pascal Donahue and with Nadia Calvinho, Deputy Prime Minister and Minister of Finance of Spain, the Ministry of Finance announced today.
The ECOFIN Council discusses Russia's military aggression against Ukraine and galloping energy prices. Minister Asen Vassilev stressed the connection between the two topics, as well as the danger of deepening the problems with food supplies in the autumn. He said the drastic drop in grain supplies could trigger a new wave of refugees unless the EU acts together to provide support for its closest eastern and southern neighbors. As a successful model, Minister Vassilev noted the work of the European Commission on the EU regional platform for joint purchases of natural gas, liquefied gas and hydrogen, based in Sofia.
Ministers accepted the recommendation of eurozone member states to adopt the euro from Croatia on 1 January 2023. Minister Vassilev congratulated Minister Zdravko Maric and Croatia and expressed confidence that Bulgaria would soon follow this successful example.
The finance ministers discussed a package of new, own resources in the EU budget proposed by the EC. Minister Asen Vassilev expressed readiness for its consideration, but stressed that there are still unclear aspects, including the budgetary effects. Discussions on the substance would be possible once sufficient progress has been made on the Prepared for Goal 55 package.
Among the topics of the meeting were the implementation in the EU of the minimum global level of taxation for multinational groups, the European Semester for 2022 and the Mechanism for Recovery and Sustainability.