The energy ministers agreed at a meeting in Sofia to redraw the energy map of the region
Better interconnectedness, more local resources and the abandonment of differences in the name of common security are key to ending dependence on Russia, it is widely believed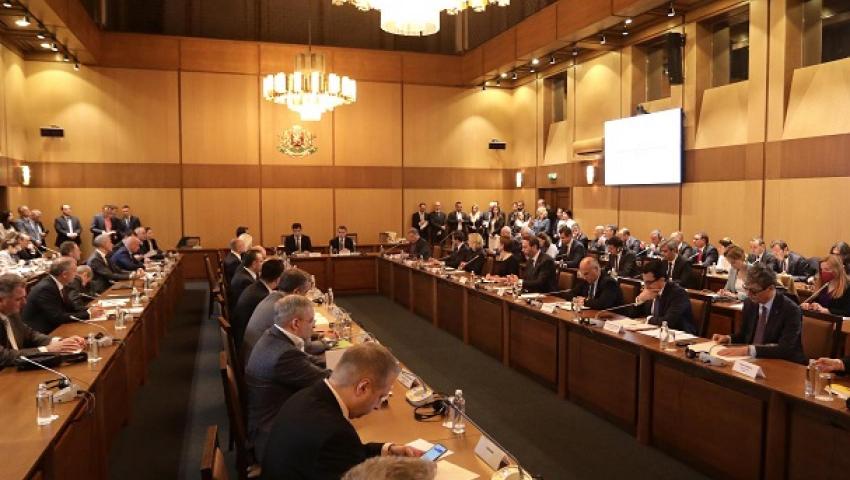 The energy map of our region needs to be redrawn, reorganized and supplemented. This applies to both gas interconnectors and supplies, as well as electricity connectivity. At the same time, new connections need to be built to improve gas and electricity supply capacity, transmission capacity, and diversify resources. Last but not least, this must be in line with energy transformation and the green transition. Most of the participants in the meeting between the energy ministers in our region and the countries close to it, who discussed the state and development of energy security in view of the recent circumstances and crises, united around these opinions.
Improving energy connectivity
The new interconnectors allow us to make a new energy map of the region. The energy mixes of our countries can be optimized even better for greater cost efficiency, said Prime Minister Kiril Petkov, quoted by BTA. We have gathered here today to show that unity is strength. We are seeing an unprecedented war in Ukraine. At the same time, we see energy being used as a weapon, he added.
We see a unilateral breach of contract by Gazprom. The only way we can compensate for these negative developments is to unite and realize that diversification, optimization and all other synergies between us are there, said the Prime Minister. He added that the energy mixes of our countries can be optimized even better for greater cost efficiency.
New opportunities for diversification come to the fore. The Trans-Balkan gas pipeline can carry gas through Greece, Bulgaria, Turkey, Romania, Ukraine, respectively, with energy connections on the territory of Bulgaria, gas can already be transported to Serbia and northern Macedonia, so the opportunities are great, said the Prime Minister.
According to him, if the use of electricity on the regional map is optimized, then there may be additional gas capacities. We have many opportunities and I am very happy that we can start working at today's meeting, and that this meeting will not be just one, but a permanent working group will be created to redraw the regional energy map, said Petkov.
During the meeting, an agreement was reached to expand cooperation in the region on the basis of infrastructure. This became clear from the words of the Minister of Energy Alexander Nikolov during a press conference after the meeting held at the Boyana residence.
An agreement was signed by Bulgartransgaz on the construction of the Bulgarian-Serbian gas connection, Nikolov said. Regarding natural gas trade, Bulgargaz and the Greek company DEPA will work together to better develop existing capacities at the Revitusa island terminal, as well as to seek joint supply opportunities throughout the region.
On the other hand, such cooperation is emerging in the field of electricity. The operators of Bulgaria, Romania and Greece will sign documents that will increase the capacity to connect new green facilities. The new electricity capacity will provide opportunities to reduce dependence on natural gas in the region, as partial production, which is related to natural gas, can be replaced by alternative sources, said Nikolov.
The Minister of Energy answered a journalist's question that in a very short period of time solutions will be found to cover all possible risk scenarios, so that the electricity system and the energy balance not only in Bulgaria but also in the region remain stable, regardless from the actions of external factors.
Most of the decisions that are being discussed are medium-term and long-term, Nikolov added. The short-term ones are related to the spot market, he added, noting that this is one of the reasons for an agreement between DEPA and Bulgargaz, as this will optimize the costs of both companies and allow for continuity. of supplies.
In the long run, the working group, which also includes members of the European Commission, will discuss all possible scenarios.
Due to the fact that the mix of natural gas changed quite sharply at the end of April, Bulgargaz needs more technological time before submitting the price application to the Energy and Water Regulatory Commission, the Minister of Energy also commented. He added that an appropriate balance is being sought with, so that there are no drastic price changes in the proposal for approval of natural gas prices. "We hope that the request will be submitted within the next week," Nikolov added.
Pan-European refusal to supply from Russia
Regarding the possible decision of the EU to give up the import of Russian oil, Nikolov pointed out that Bulgaria will certainly ask for a postponement of such a measure. Earlier, the same was confirmed by Deputy Prime Minister and Minister of Finance Asen Vassilev. He clarified that if the possibility of a derogation for oil from Russia is accepted, Bulgaria will request a postponement period. But he also clarified that if the EU as a whole decides that there will be no derogation for any of the member states, then our country will not receive a postponement period. He added that Bulgaria will have the right to request a postponement period for the suspension of Russian oil supplies if the sanctions, as adopted, provide for a derogation for at least one country.
Vassilev also noted that the region is preparing to cut off natural gas from Russia, because we see supplies being cut off for no reason. The good news is that the region is well positioned for diversification. Bulgaria has the ability to transit 20 billion cubic meters of gas from south to north. We have a modest consumption of 3 billion cubic meters and have free transmission capacity, Vassilev said.
He added that we want the EU to have a strategy for buying natural gas. And that we believe that we are prepared and there are solutions that will benefit us.
From 90% dependence on the supply of Russian natural gas we fell to zero in just one day - on April 27, Vassilev recalled. If we unite our actions with regard to electricity, we can diversify the region and end our dependence on Russia forever, the Deputy Prime Minister added.
Strengthening cooperation and turning away from differences
Everyone is coming out of the crisis stronger, Alexander Nikolov pointed out. He added that the unification helps to overcome them, as well as to strengthen the positions and security of individual countries. He also added that the coming winter is not so far away and the possibilities for achieving energy security should be discussed. Noting that the meeting in Sofia is held against the background of many challenges, but also new opportunities.
He noted that representatives of the department he heads will provide information on infrastructure and networking opportunities. The Bulgarian Minister of Energy believes that there are no borders between the countries and that this is the way to find common solutions that are largely in synergy.
Nikolov also expressed hope that the results of today's meeting will be seen soon.
A similar opinion was expressed by the Director General of DG "Energy" of the EC Dite Jule Jorgensen. She pointed out that energy has already become a weapon and our best weapon against this is solidarity and concrete action. Jorgensen noted that Russia has recently decided to cut off gas supplies to Bulgaria and this is an attempt to split the EU. That is why the Union must respond with solidarity and concrete action.
According to her, only then can the consequences of the supply challenges be resolved, as well as the longer-term ones in terms of the energy transition.
The issue of the occupancy of gas storage facilities must be resolved by the coming winter, Dite Jul Jorgensen added, commenting that EC experts are ready to offer solutions to the problems in our region. For this purpose, there is a special group to achieve concrete results. The purpose of today's meeting is both to show solidarity and unity, but also to demonstrate this through concrete results and actions, said the Director General of DG "Energy" of the EC.
Energy security is a regional, not a national issue, said Turkish Deputy Minister of Energy and Natural Resources Alparslan Bayraktar.
Turkey wants such regional security, we are an important player in the transmission and storage of natural gas. We can supply from Turkmenistan and Iraq or other sources from the Eastern Mediterranean. We are facing unprecedented challenges for the energy transition and we must do so rationally and pragmatically, not emotionally, Bayraktar said.
Parviz Shahbazov, Minister of Energy of Azerbaijan, stressed that in order to have a sustainable energy supply, we must be creative. Today, there must be no priorities between diversification, security of supply and the green transition. It is necessary to work on all these topics at the same time, Shahbazov is categorical. Azerbaijan is determined to defend its position as a supplier of natural gas through existing gas pipelines, he added. Europe receives more than 11 billion cubic meters of Azerbaijani gas a year and since the beginning of the year the country has already delivered 3.5 billion cubic meters - of which 3.1 billion cubic meters to Italy, the minister said.
He added that by the end of the year supplies will exceed 10 billion cubic meters, co this requires the completion of various interconnectors. Shahbazov noted that Bulgaria is an important participant in the gas network in Eastern Europe and the completion of its new gas connection with Greece is very important.
Herman Galushchenko, Ukraine's energy minister, said Ukraine often suffers from Russia's arbitrary decisions to cut supplies. In 2009, Russia cut off natural gas supplies in the middle of the heating season. In 2014, supplies were cut off again and Russia occupied Crimea and several other regions. Natural gas supplies are a paramilitary tool in the hands of the Russians, said German Galushchenko, who also called for the region's unity.
Kresnik Bektesi, Economy Minister of Northern Macedonia, said that although Northern Macedonia is a small country, it wants to support all initiatives to secure natural gas supplies and diversification. "Every difficult time is filled with lessons and opportunities to make life easier for future generations, so we are working closely with the EC," Bekteshi said.
We are looking for ways to increase the capacity of the existing natural gas interconnector with Bulgaria, as well as to build another one. Its capacity is now occupied by Gazprom, it cannot be released for other suppliers. That is why in this working group we are looking for solutions of mutual interest, said Kreshnik Bekteshi.
Zorana Mihajlovic, Serbia's deputy prime minister and minister of mining and energy, said a message would be sent at the ministerial meeting that participants are united in their search for energy security. We need to think about how to stand in solidarity in changing circumstances. We must not stop the green energy transition, Mikhailovich said. She pointed out that the country is 100% dependent on the Russian Federation for natural gas supplies. We need to diversify our supplies and connect with all our neighbors to secure strategic reserves, Mikhailovic said.
Romanian Energy Minister Virgil-Daniel Popescu believes the current energy uncertainty should be a turning point in ending dependence on Russian natural gas. Diversification needs to be increased, he said.
Popescu also stressed the need to reconsider natural gas plans as a transition fuel with a view to diversification and to invest in balancing storage capacity and renewable energy sources. According to him, stable energy systems must be created and innovative technologies must be applied. Transformation in the energy sector must make it possible to increase security and support economic development and the solution of social problems. Transport systems need to be modernized to reduce losses Popescu singled out Romania as a natural gas producer. The Romanian national company will extract gas from the largest probe in the Black Sea in 2026. He therefore called for the promotion and reliance on European gas. The current crisis is keeping prices high and volatile. Romania is adopting appropriate provisions to ensure energy supplies for poorer consumers, which will lead to favorable changes for households and businesses. It must focus on flexibility, synergies and diversification to reduce dependence on Russian energy, the Romanian energy minister said. To this end, transmission networks must be synchronized by increasing European security of supply. Regional coordination can be an important element of security. There are solutions to address global energy security, and there are concrete steps. We need to talk and work together to promote cooperation, to overcome these problems, Popescu said.