Businesses will also receive compensation for expensive electricity in May, but remain ready to protest
We want to pay for electricity and gas as much as the average prices in Europe in order to be competitive, said Vasil Velev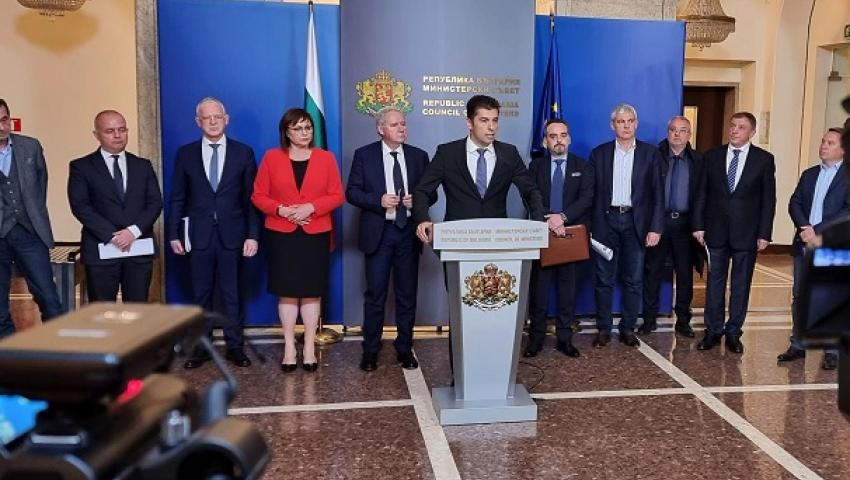 Bulgarian businesses will continue to receive compensation for high electricity prices in May. This was announced by Prime Minister Kiril Petkov at a briefing after his meeting with other government officials with employers' organizations and trade unions. He noted that they may be different from the current size, and the specific parameters will be discussed with the Minister of Energy and finalized next week.
Regarding the other problem - gas prices and the upcoming EWRC decision on tariffs for this month, Petkov expressed hope that there may not even be an increase. But, if there is one, it will be bearable. To achieve this, everything possible will be done in the next few days, he promised.
Petkov also noted that they had discussed gas supplies very seriously with employers. And he assured them that the government is working hard to ensure that Bulgaria has a secure supply of blue fuel, which are at prices no different from those that would come from Gazprom. "On the other hand, we appreciate the risks that this war in Ukraine could bring not only to Bulgaria, but to the whole of Europe, even the world. That is why we discussed what could happen with each of the options, so that I have predictability for Bulgarian business and workers, "Petkov said.
Satisfaction with the dialogue with the authorities was also expressed by the chairman of BIA Dobri Mitrev. He stressed that the aim of the dialogue with the state is to insist on doing what is necessary in terms of energy prices, saving the economy and industry, reducing the growth rate of goods and services, preserving jobs and ensuring their incomes, even if increased. In this regard, the business has proposed to Prime Minister Petkov and his deputies Cornelia Ninova and Asen Vassilev that compensation for high electricity prices be extended until their levels return to normal. Mitrev also pointed out that this was allowed by the EC on April 8 and would not be a violation of European rules. Moreover, Brussels also says that these compensations can be paid as long as necessary.
The proposal of the employers was that the lower threshold for the compensations should be the price of the electricity mix, determined by the EWRC, and the upper one should not be. With regard to natural gas, they insist that the price for business should not be higher than that which would be obtained under the formula set out in the contract with Gazprom Export.
However, Mitrev noted that a clear response to the business's proposals at today's meeting was not received. But employers hope this will happen in discussions with the energy minister next week. He added that the employers remain on protest and a date has already been announced - May 18. And it will take place if the government offers unacceptable conditions for business.
For his part, the chairman of BICA Vasil Velev stressed that employers want nothing more than to buy energy resources at prices comparable to average European prices. "We do not want lower. Bulgaria has the opportunity to provide competitive prices. As long as there is a working Kozloduy NPP and production of electricity from coal, there is sun, air and water, we will have a self-financing scheme to compensate for extremely high prices and reduce them to the level of Central European extremes, not what we see on the stock exchange ", said Velev. He stressed that employers will not back down from this request and will continue talks with the government.
Deputy Prime Minister and Minister of Economy and Industry Cornelia Ninova said that in the event of higher prices for alternative gas supplies, a mechanism would be sought to compensate businesses for this difference from the state. She added that an option to abolish the excise tax on natural gas is being discussed.
Ninova also added that Bulgaria has already been asked to have an exception in the event of an embargo on Russian oil imports by the EU.
She denied any information that BEH companies would be privatized.