European Commission Gives Green Light to Bulgaria's National Recovery and Resilience Plan
The Bulgarian plan is exceptional, almost 60 percent of it is to support the Green Transition, said EC President Ursula von der Leyen, who is visiting Sofia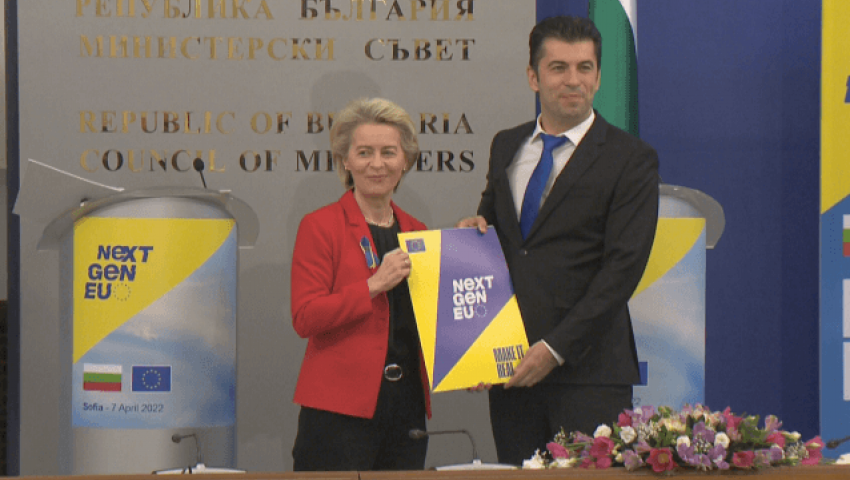 The European Commission gives the green light to Bulgaria's National Recovery and Resilience Plan (NRRP), the visiting European Commission President Ursula von der Leyen said at a press conference she held jointly with Bulgarian Prime Minister Kiril Petkov here on Thursday. Petkov said that the plan is worth over 12 billion leva and is equal to 10 per cent of the Bulgarian economy and provides an opportunity to this country to carry through a transformation, BTA reported.
He thanked Ursula von der Leyen for being here today and for the approval of the finalized NRRP.
In his words, the NRRP ensures Bulgaria's energy security and envisages reforms in rule of law, fight against corruption, and public procurement procedures. The plan focuses on investing in rail transport, including 62 new trains and new urban rail systems, Petkov said.
The plan also envisages 1.3 billion leva for Bulgaria's economic transformation, the Prime Minister added.
Von der Leyen said that EU's overall Recovery and Resilience Plan amounts to 800 billion euro and is structured around three main pillars – the Green Deal and clean energy, digitalization and investment in making our societies stronger and more sustainable.
She said the EC needs Bulgaria on its side on the way to decarbonization. The NRRP includes solutions for lowering carbon emissions, storing energy, reforming the electricity market, investing in intelligent energy networks, and diversification of energy supply, so that Europe becomes independent from Russia's natural gas an oil supply, Von der Leyen said.
The second field is digital transition, she noted. The plan ensures accessible public services via high-speed internet connection in rural areas, development of the 5G networks, as well as digital skills trainings for the future, Von der Leyen added.
The NRRP combines investments in green transition with reforms and structural challenges, support for the most vulnerable groups, and access for children to education. The plan also includes broad anti-corruption measures, the EU President pointed out.