The Prime Minister: The priority for Bulgaria is to provide the necessary humanitarian aid to Ukraine
Kiril Petkov met with Romanian President Klaus Johannes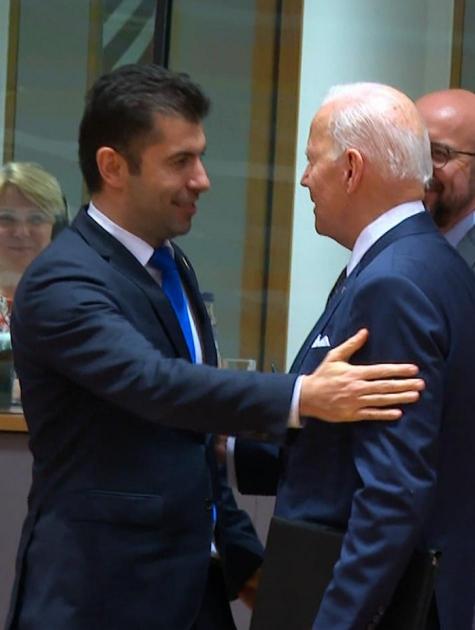 The participation of the Prime Minister Kiril Petkov in the joint session of the European leaders with the President of the USA Joe Biden, which is being held within the regular meeting of the European Council, has started. The session focused on the topic of support for Ukraine and the strengthening of transatlantic cooperation in response to Russia's aggression. This was announced by the government information service.
Bulgaria's position is that the war waged by Russia against Ukraine is a huge conflict with significant global consequences. Prime Minister Kiril Petkov is of the opinion that the EU and NATO member states must continue to be united and decisive in their common response to the unprovoked Russian aggression.
International support for Ukraine's sustainability must continue. A priority for Bulgaria is the provision of the necessary humanitarian aid and unimpeded access of war refugees to safe destinations. Our country has already given shelter to over 50,000 Ukrainians. Bulgaria is one of the countries that most quickly structures an operational coordination group and sectoral units to deal with the situation.
Earlier today, the prime minister met with Romanian President Klaus Johannes in Brussels ahead of a regular European Council meeting. The two discussed current topics on the European agenda, which will be brought to the attention of EU leaders later today. Emphasis was placed on the situation in Ukraine. For Bulgaria and Romania, as two of the host Member States, it is essential to receive European support and solidarity in helping those in need.
The talks between Petkov and Johannes also focused on bilateral issues, including joint infrastructure and transport projects. Improving the connectivity between our two countries is important not only for us, but also for the whole region and for the European Union, Prime Minister Petkov told the Romanian President.