AmCham presents to Prime Minister Petkov a report with three options for decarbonisation of the electricity sector in Bulgaria
The study was presented in Radnevo at the headquarters of Maritsa East Mines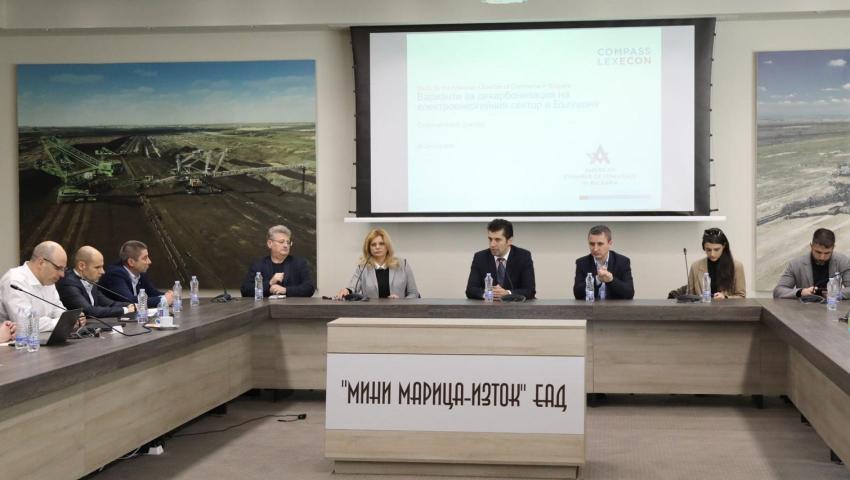 The Prime Minister Kiril Petkov and the Minister of Energy Alexander Nikolov attended today the presentation of a report of the American Chamber of Commerce in Bulgaria to the management of Mini Maritsa East EAD. The report examines various opportunities for transition to a low-carbon economy in our country and is of interest to the government in view of the Cabinet's efforts to develop the region in line with the goals set in the National Plan for Recovery and Sustainability. This was announced by the government information service. The meeting was also attended by representatives of the coal-fired power plants in the complex.
The report presents possible options for the transition to a low-carbon energy sector, as well as recommendations for building an investment framework to attract the necessary investments as a guarantee for a smooth energy transition. Three decarbonisation scenarios have been prepared with a focus on achieving the target of reducing emissions by 55% by 2030 and full decarbonisation by 2050.
The study is based on objective data and eligible options arising from the National Climate Energy Plan, the EC Ready Plan for 55 from 2021, as well as the EU Reference Scenario for 2020, which set out the main guidelines for energy development and climate protection, adopted by the European Commission and Bulgaria.