The Bulgarian Stock Exchange (BSE) and Plan A launch initiative to measure the impact of companies on the environment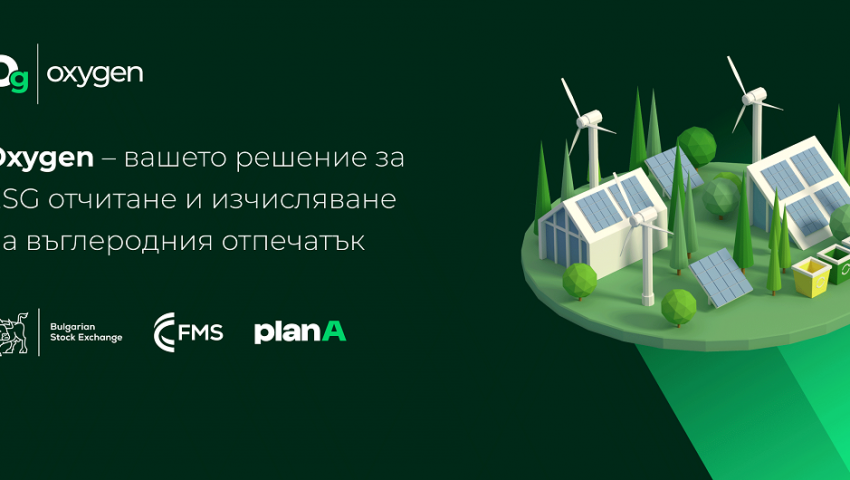 The Bulgarian Stock Exchange (BSE) and its daughter company Financial Market Services in partnership with the leading carbon accounting and decarbonisation software solutions provider Plan A launch "Oxygen" initiative. By leveraging Plan A's science-based SaaS platform, the initiative aims to enable Bulgarian companies to measure and report on their environmental, social, and corporate impact by obtaining an assessment of their carbon footprint as well as further ESG-related indicators.
"Investors around the world are increasingly considering compliance with ESG indicators in their investment decisions, and we are confident that companies that measure and account for the impact of their sustainability policies through Oxygen will have easier access to capital and overall competitive advantage.", said Assoc. Prof. Manyu Moravenov, CEO of BSE.
"Regulatory pressure is increasing. Investors, employees and consumers are placing ever-growing importance on companies reporting their ESG impact and developing sustainable business models in line with their values. It is therefore with great pride that we announce today the launch of the Oxygen initiative in partnership with the BSE to enable Bulgarian companies to get a transparent 360-degree overview of their ESG performance, enabling them to stay ahead of legislation, reduce risk and drive the sustainable transformation.", commented Lubomila Jordanova, founder and CEO of Plan A.
Oxygen is based on a technological platform developed by Plan A, through which Bulgarian companies can assess the impact of their business on the environment by entering data and processing it quickly in a few easy steps. ESG reporting is a key know-how of Plan A which builds tech tools to enable companies to better report and act on their non-financial performances.
One of the advantages of Oxygen, especially for public companies, is the ability to generate the Non-Financial Declaration, which has been developed in accordance with the EU Taxonomy and includes the ESG indicators established in world practice. The generated declaration contains quantitative and qualitative information structured textually and graphically in three main parts – environmental, social and corporate governance. This facilitates public companies as much as possible, especially in the reporting period.
In addition to the technology platform, the Oxygen initiative includes consultations and trainings, the first of which with a focus on public companies is planned for March 10, 2022.