Deputy Prime Minister Karadjov: Digitalization will solve many of the problems in the construction sector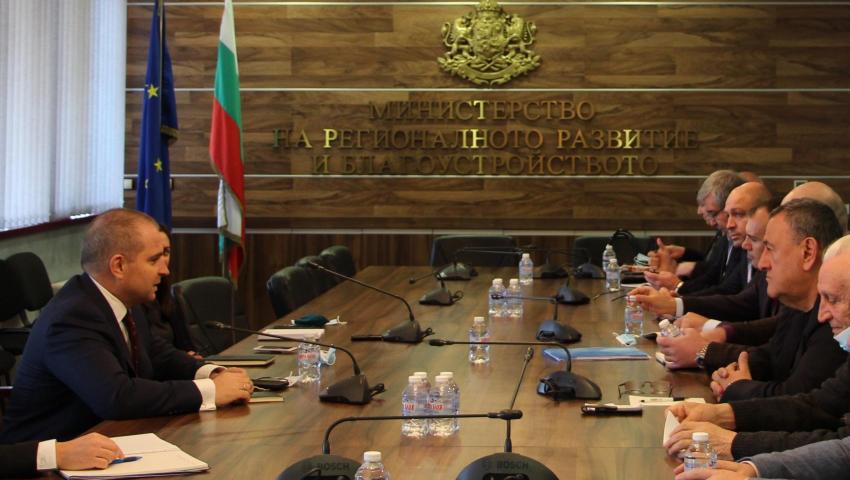 "Digitalisation is the most important issue we are discussing today. You will hardly have a better friend than me on this subject. Because it will serve generations to come. There are two areas we need to work on - document management and digitalization of the construction process.
This was stated by Deputy Prime Minister and Minister of Regional Development and Public Works Grozdan Karadzhov before the leadership of the Chamber of Builders in Bulgaria during the first joint meeting at the Ministry of Regional Development and Public Works (MRDPW).
The Chamber brought out the topic as one of the main priorities for the construction industry. The Vice President of the European Federation of the Construction Industry, Eng. Lyubomir Kachamakov, stressed that digitalization will define responsibilities, ensure transparency of construction companies and give impetus to the sector.
"Digitalisation really brings to light issues that are now hidden. The digital construction process is easier to achieve. From the assignment to the implementation of the project - all documents to be submitted only in electronic form to the permitting institution. Receipt - only in electronic form. There will be no harassment and waste of documents, "the minister said. Regarding the document flow, Minister Karadjov explained that the government will work entirely on the electronicization of the document flow.
Urgent changes in the laws on spatial planning and public procurement, indexation of prices in construction, payments to companies were also among the problems posed by the Chairman of the Board of BCC Eng. Ilian Terziev.
The Minister undertook to start discussing these issues expertly in order to find acceptable solutions for all parties. "Regarding the indexation, there are two qualities in which the Ministry of Regional Development and Public Works is. In the first place as one of the major contractors in the country. The contracting authority must be understanding of the increase in the price of construction materials. We need to do a serious analysis of the data in order to come to sensible decisions. In general, I am positive about some kind of indexation, but by no means automatic, because there are materials whose prices have not increased", said Deputy Prime Minister Karadzhov.
Regarding the laws on spatial planning and public procurement, the Minister expressed readiness to develop joint changes with all stakeholders. "The first thing the state can do for a sector is not to disturb them. Do not expect me to increase the functions of the state. Rather, we will strive to ease the procedures, the minister said.