EMI: In Bulgaria we pay the lowest electricity costs in the EU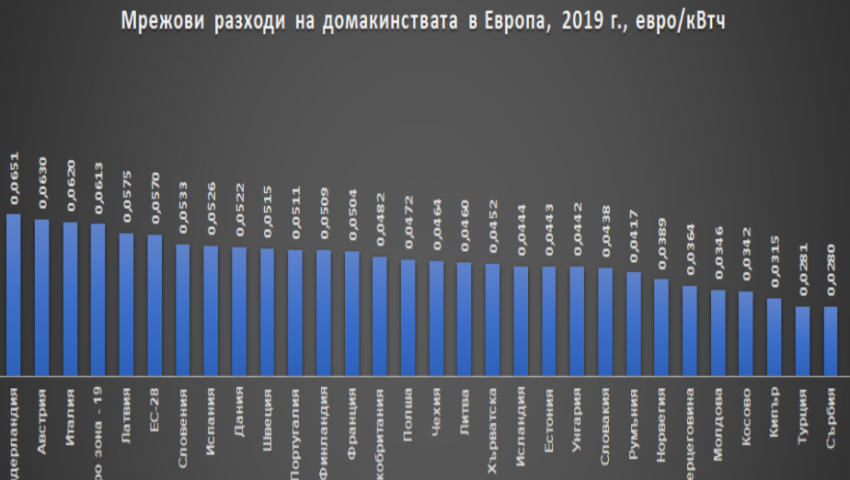 In Bulgaria, electricity costs remain the lowest in the EU, according to an analysis of Eurostat data for 2019, made by the Energy Management Institute (EMI). Bulgaria ranks last among the EU member states with a full final price for electricity of 0.0976 euros / kWh, about three times lower than the highest they pay in Germany - 0.2992 euros / kWh. Our prices are comparable to those in Turkey and Moldova. A comparison with neighboring markets shows that households in Romania pay 42% higher electricity bills and those in Greece 70% more. The electricity costs of households in our western neighbors, in turn, are on average 18% lower than in Bulgaria.
The analysis reveals a curious fact - network costs in Bulgaria (0.0256 EUR / kWh) are 2 times lower than the EU average and are 3-4 times lower than the record countries - Belgium, Liechtenstein and Germany. Experts are concerned that with increasingly ambitious goals and dramatic requirements for network companies, network prices in Bulgaria remain consistently among the lowest levels not only in the EU, but are ranked 35th out of 38 European countries. After us are only the Republic of Northern Macedonia, Malta and Georgia.
If the increasing demands on networks in the coming decades are not reflected in the accounts of end users through appropriate pricing solutions and regulatory interventions, it would be logical for their development, modernization and digitalisation to direct public resources through specific support tools, European funds, public-private partnerships, low-interest financing, etc., conclude the EMI experts.
The fact that the strategies, programs, plans and multiannual financial frameworks of the national institutions announced so far do not seem to take this into account, they warn.