Is green transformation possible only by saving energy?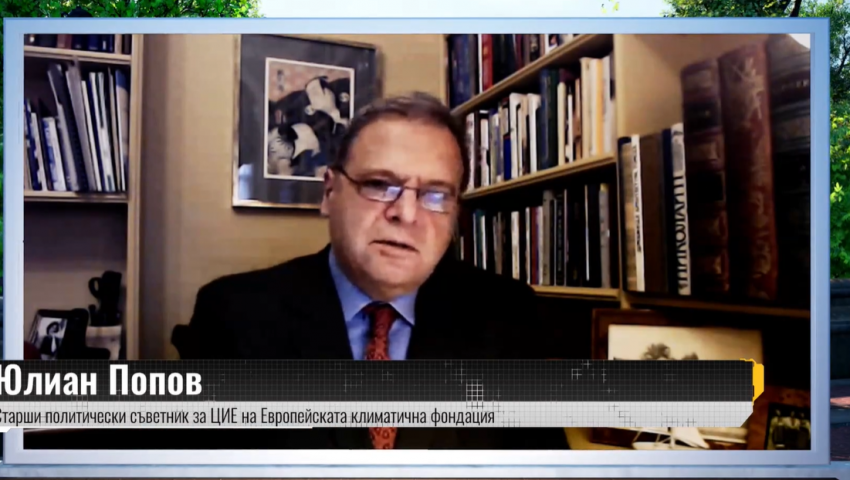 The post-COVID-19 recovery and sustainability plan is a unique opportunity that will not be repeated, commented Julian Popov, senior political adviser for CEE at the European Climate Foundation, during the presentation of the government's plan with a focus on the Green Bulgaria pillar. Of the total BGN 12 billion in the plan, 37% or BGN 4.5 billion are provided in the Green Bulgaria pillar. Of these, BGN 3 billion are for energy efficiency.
The most important issue we need to solve is how to mobilize additional funds and create an investment environment that will transform Bulgaria, Popov stressed. Even the Bulgarian citizen has BGN 56 billion in deposits, which decrease annually due to inflation, and can be mobilized in various initiatives, such as rehabilitation.
A clean environment is a function of wealth, and it is not about saving, but about creating, commented Boyan Rashev, managing partner at the consulting company for sustainable development denkstatt during the discussion. With this plan, our main ambition should not be to save on electricity and lighting, but to create things from which we will sustainably benefit. That is why we need a giant upgrade, to make RES and components, electric cars and components, because Bulgaria has deposits of many metals.
The Minister of Regional Development Petya Avramova pointed out that high levels of energy savings are achieved, less electricity is used, less emissions into the environment. It will have an economic effect for all participants in the investment process. The refurbishment program includes three main components - energy efficiency for single and multi-family residential buildings, energy efficiency for public buildings and energy efficiency for industrial buildings.
The Minister of Energy Temenujka Petkova commented that before creating new opportunities for the people, the safe operation of the electricity system must be guaranteed. The digitalization of ESO includes BGN 0.5 billion of investments in nine subprojects. Currently, the substations are managed on site, one of the key projects will enable remote management of energy infrastructure, will improve the telecommunications network of ESO, will build a new cybersecurity system to be the upgrade system, which is a prerequisite for sustainable development of the sector, to prepare it for the new reality with more RES. This, together with the full liberalization of the market, will provide the basis for green investments in the sector, Temenuzhka Petkova is confident.
People want cleaner products, clean agriculture with less fertilizer and pesticides, producers have to adapt to new realities, and management has to give what society wants. Farmers are not ready for this sharp jump that we have to make, but the situation requires it, commented the Minister of Agriculture Desislava Taneva. Drought reduces yields and affects our competitive advantages even in a sector such as grain production, where we are leaders. And if digitalisation is something that is harder to convince the sector, then modernization in irrigation is extremely necessary.
For this complete transformation of the economy, staffing is needed. We have to prepare the staff, commented Assoc. Prof. Dr. Dobri Yarkov, Rector of the Thracian University of Stara Zagora. Bulgaria lags far behind with the digitalization of the sector, we could be indispensable in research and development, to produce software, hardware, robotics and automation of the entire sector.
Bulgaria has a lot to catch up with, but this is going through a change in the behavior of all citizens, commented Deputy Prime Minister Tomislav Donchev.
We must enter the topic of the green transition maturely, taking into account the socio-economic consequences. A green transformation can only take place if all countries follow the same course, but if non-member states continue to produce electricity from coal, this is not a solution for us. The transition will not be easy, Donchev stressed. We are the EU's external border, we are still talking about energy poverty, and before we talk about new capacity, we need to talk about energy efficiency in all buildings.