Bulgartransgaz, Arkad Consortium Sign Contract to Expand Network from Turkish-Bulgarian to Bulgarian-Serbian Border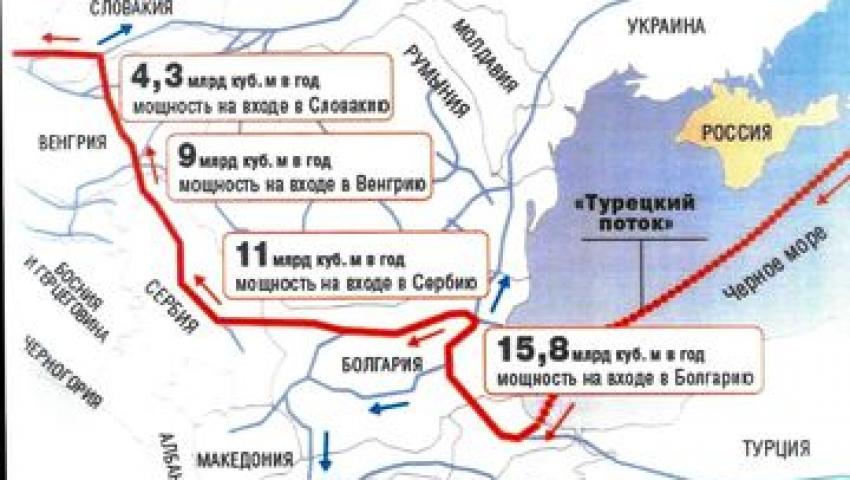 Булгартрансгаз ЕАД и Консорциум Аркад сряда подписаха договор за доставка на материали, проектиране на инвестиционни проекти, разработване и пускане
в експлоатация на разширената инфраструктура за газопреносна мрежа от турско-българската до българо-сръбската граница.

Договорът беше подписан в Министерския съвет в присъствието на премиера Бойко Борисов, министъра на енергетиката Теменужка Петкова, руския министър на промишлеността и търговията Денис Мантуров, посланика на Саудитска Арабия в България Месфер ал Гаси. Договорът от страна на Булгартрансгаз е подписан от Любомир Кръстев, а за консорциум Arkad - от Хани Абделхади [името може да е неправилно написано].

Изпълнителният директор на "Булгартрансгаз" Владимир Малинов посочи, че това е началото на изключително важно сътрудничество със Саудитска Арабия, което ще гарантира доставките на природен газ за България, Балканите и Европа.

Договорът е на стойност 1 102 милиона долара, каза Малинов. Той трябва да бъде приложен в рамките на 615 дни след сключването му. Това трябва да позволи на "Булгартрансгаз" да снабдява Сърбия, след това Унгария и накрая - центъра в Австрия.

Борисов посочи, че това е така нареченият "Балкански поток", позволяващ тази страна да остане на европейската карта на природния газ.
Prime Minister Boyko Borissov conferred here on Wednesday with Russia's Minister of Trade and Industry Denis Manturov. Speaking to journalists after the
signing of an agreement between Bulgartransgaz and the Arkad consortium about expanding the natural gas transmission network from the Bulgarian-Turkish border to the Bulgarian-Serbian border, Borissov described Bulgarian-Russian business relations as exceptionally pragmatic, straightforward and fair.

The Bulgarian Prime Minister said he is optimistic about the Belene N-plant project, adding that the creation of a consortium is being actively worked on. The Bulgarian side will try to conduct negotiations with all potential strategic investors in the project as soon as possible. According to Borissov, there is a huge chance for this to become a very good project if all its parameters and implementation are within the agreed upon rules.

Minister Manturov said that the Russian side has bid to take part in the Belene N-plant's construction, adding that his country is ready to participate in the project as part of an international consortium. "I believe this to be an optimal option," the Russian Minister said. He also noted that Russia is interested in broadening cooperation with Bulgaria in the pharmaceutical industry.

Мантуров припомни, че тази година се навършват 140 години от установяването на дипломатически отношения между двете страни, като изрази своята благодарност за конструктивното сътрудничество и взаимодействие с България.
Източник: БТА