A Bulgarian crew picks up the shipwreck on Monday
In good weather, the unloading of the ship begins immediately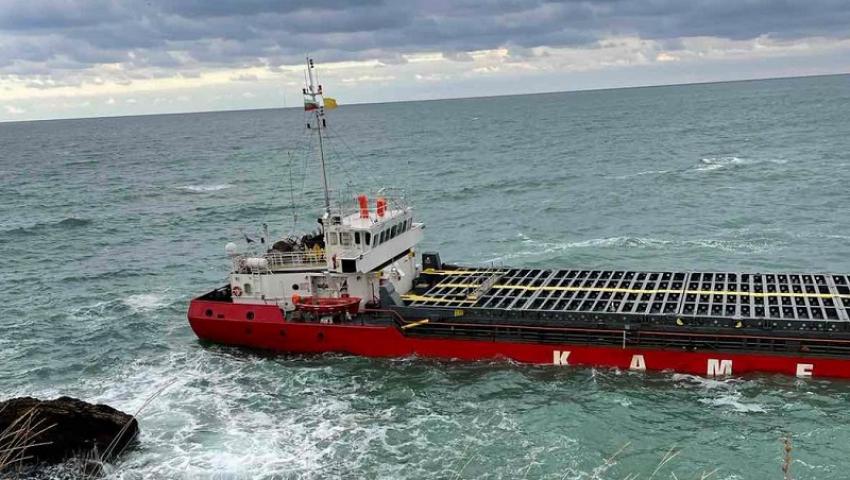 A Bulgarian crew will most likely take over the ship stranded near Kamen Bryag after its ship was taken off board two days ago. This will happen when the forecast for more favorable weather comes true on Sunday and Monday, and the plans for the time being are for the Bulgarian sailors to board the "Vera Su" at the beginning of next week. If things develop well, then the unloading of the ship will begin. This became clear in the words of the executive director of the Maritime Administration, Capt. Ventsislav Ivanov in front of bTV. He explained that boarding a Bulgarian crew would take place if, in the meantime, the Turkish owner of the ship did not provide people. It works in parallel, so that in the first moment of favorable weather conditions a crew will be on board. If it is not provided by the ship owner by then, the court will be taken over by the Maritime Administration.
The same applies to the unloading, releasing and towing of a wreck to a safe place. If by the time the barges provided by Bulgaria allow the ship owner has not provided a specialized company to be approved by our Minister of Justice and to take over the operation, it will be handled by the specialists and vessels provided by our country, it became clear from the words of Cap. Ivanov.
Despite the very bad weather conditions with a wind of 50-60 m / sec. and waves of over 3 meters, so far "Vera Su" remains stable. The condition and position of the ship have not changed within the last 24 hours, the same applies to the additional 3 anchors and ropes, explained Cap. Ivanov, in front of BNT. He also reassured that there is no danger of the dry cargo in the ship getting wet, as the hatch covers are in very good condition.
Despite the disembarkation of the ship's crew and the interrogation of its members, the cause of the Vera Su incident is still unclear. It may be a human error, but there are also other aggravating circumstances, it became clear from the words of the head of the Maritime Administration. Who noted that there is still no information from the interrogations of the sailors, as the prosecutor's office took them behind closed doors. Investigators also refused to provide information to the Maritime Administration.