Expert: District heating is good to stock up on fuel oil
Energy prices in Europe can be eased if CO2 trading is stopped for a short time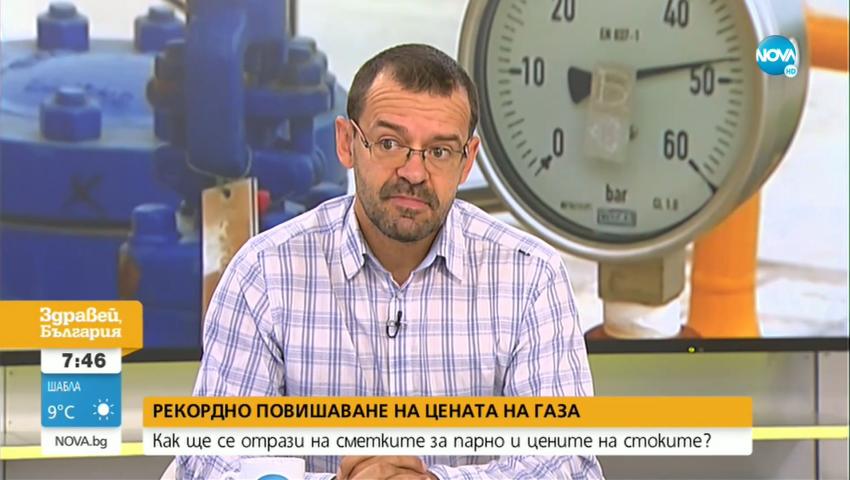 "There has never been a 36% increase in gas from one month to another. The price of blue fuel plus the price of carbon allowances form 80% of the value of the price of heating. In my opinion, if the heating is raised by less than 20%, it will be a cause for joy. " This was stated in the studio of "Hello, Bulgaria" by energy expert Boyan Rashev.
The expert adds that the state will obviously have to bear part of this burden, because consumers will not be able to.
"The burning of fossil fuels generates carbon emissions. In Europe, they are subject to trade and their price is extremely high. Trade with them should be stopped this winter or prices should fall, "Rashev said.
"There is enough gas in Bulgaria because our needs are small. The lack of gas and coal is observed in Western Europe, "Rashev said.
He advised district heating companies to fill their fuel oil farms, ie. to be able to switch to reserve fuel no matter how dirty and no one likes it. "Do you remember in 2009, when we had no gas? There was fuel oil, "the expert explained.
According to him, an option to calm energy prices is to stop trading in carbon emissions or sharply reduce it. This can be done by a decision of the European Commission. "It simply came to our notice then. We have known since July that there is a huge problem with gas and electricity, but there is no reaction, "he added.
"The whole of Europe is in a very severe crisis. In countries where gas is heated en masse, it will be terrible for the people. In Western Europe, there is no coal, and we have enough," Rashev stressed.
We will not freeze this winter because we have Kozloduy NPP, TPPs in the Maritza-East complex and large HPPs, Rashev added.
Asked whether the high prices of natural gas will lead to an increase in electricity prices in our country, the expert said that the rise in price of blue fuel affects the price because Bulgaria is part of the European market, but it does not contribute much to the value of electricity. As in Greece a large part is related to gas prices, as well as in Italy, Romania, and we export a lot of electricity, it will become more expensive in our country, he explained.