Deputy Prime Minister Hristo Alexiev signed a memorandum of understanding on maritime cooperation between Bulgaria and Pakistan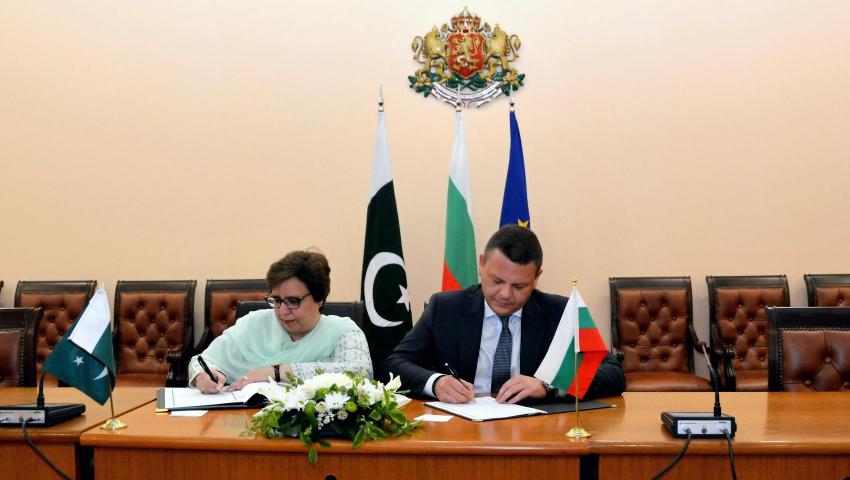 The Deputy Prime Minister and Minister of Transport and Communications Hristo Alexiev and the Ambassador of the Islamic Republic of Pakistan H.E. Mariam Aftab signed a Memorandum of Understanding on maritime cooperation between the two countries.
"The document guarantees deepening of cooperation in the private sector, creation of mutual economic opportunities and promotion of investments", stated Hristo Alexiev. He pointed out that Pakistan is an important partner of our country in South Asia and traditionally friendly relations will continue to develop in an upward direction.
"With the signing of the first document in the field of transport between Bulgaria and Pakistan, I hope that the two countries will expand the bilateral regulatory framework in other types of transport as well," the Deputy Prime Minister pointed out. He also noted that within the framework of national legislation, the measures taken are related to avoiding the unjustified delay of vessels, as well as speeding up and simplifying customs control.
The two sides expressed a clear position to remove any obstacle that could hinder the development of maritime trade or the implementation of various activities between Bulgaria and IR Pakistan. The Memorandum regulates the facilitation of employment by improving the working conditions of seafarers, as well as the possibility of replenishing the crew by the captains of the contracting states, by hiring additional members in order to continue their voyage.
Following the signing of the strategic document, the implementation of the international maritime instruments is introduced, and this vital sector of the countries' economies will continue to be safe, environmentally sound, energy efficient and secure.