Alexander Pulev: Direct Turkish investments in Bulgaria exceed 1 billion euros
Minister Pulev presented a class A investment certificate to Pashabahche Bulgaria EAD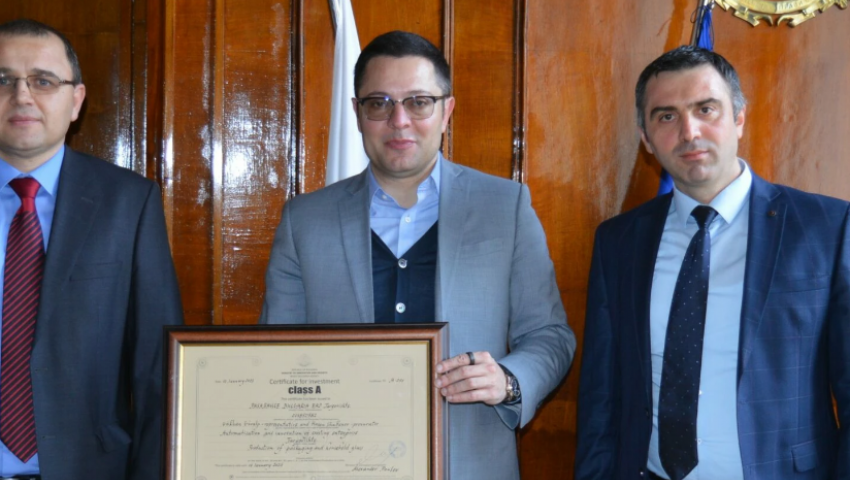 Direct Turkish investments in Bulgaria exceed 1 billion euros. Over 2,200 Turkish companies have chosen Bulgaria as their preferred place to do business, as they are one of the largest employers in our country. This was said by the Minister of Innovation and Growth, Alexander Pulev, at the presentation of a class "A" investment certificate to Mr. Hassan Shabanov and Mr. Nural Husein, procurators of "Pashabahche Bulgaria" EAD. The issued certificate is for the investment project "Automation and innovation of an existing enterprise", which will be realized in the town of Targovishte. The amount of the investment, as a total value of tangible and intangible assets, amounts to BGN 28.5 million. The certificate was issued in accordance with the Law on the Promotion of Investments.
The project in Targovishte of one of the largest manufacturers of household glass "Pashabahche Bulgaria" EAD envisages the introduction of innovative processes in the existing enterprise in the city. The company will automate production and optimize the work process, as well as include new technological equipment. The planned modernization will lead to an increase in plant capacity, an expansion of the product range and faster inspection of finished glass products, thus achieving higher production targets. It is planned to build solar panels that will be used to power one's own needs. As an incentive measure under the project, the company will receive support for the construction of elements of the technical infrastructure.
According to Minister Pulev, the Republic of Turkey is in the Top 5 of Bulgaria's key foreign trade partners based on exports and in the Top 3 based on imports. Almost half of the Turkish investments in our country have received support through the Bulgarian Investment Agency, and the exchange of goods for 2022 with Turkey is over 7 billion euros. "We have the ambition to reach 10 billion euros a year in the medium term," Minister Pulev said earlier in the year, during his meetings with Turkish business representatives at a major forum in Istanbul, attended by three Bulgarian ministers.
"Pashabahche Bulgaria" EAD is a leader in the production of household glass. The company reaches 150,000 tons of production capacity per year, and the glass products for the home produced at the factory are exported to three continents - Europe, America and North Africa.
The company is part of the Shishejam group, which is a leader in the production of all major types of glass such as float glass, glassware for the home, glass packaging and glass fiber. It is among the largest producers in its field with the scale of production, the degree of specialization and its competitive activities.