Spanish companies wish to invest here in joint projects in the automotive and ICT sectors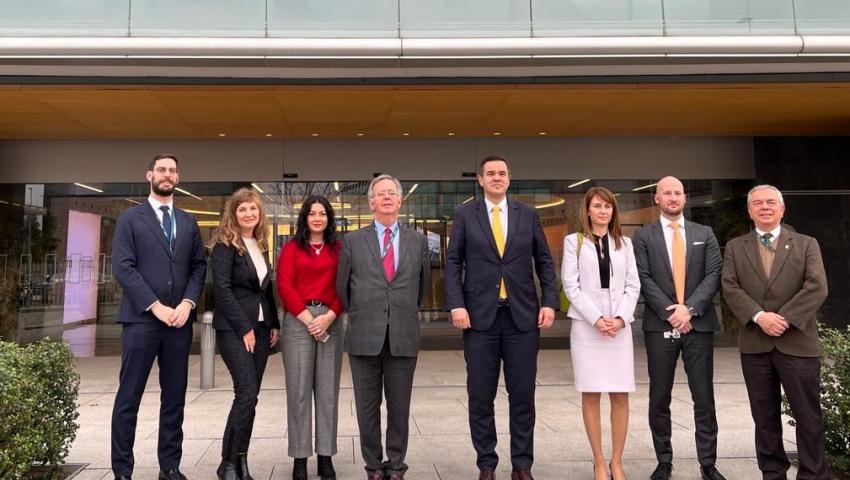 Over a period of 10 years, Bulgaria's exports to Spain have increased by 73%, and recent years have marked record values in the history of economic cooperation between the two countries. This became clear during a Bulgarian-Spanish business forum, which is being held today in Madrid. The event was opened by the Minister of Economy and Industry, Nikola Stoyanov, and is organized jointly with the Confederation of Spanish Entrepreneurs (CoSE).
In the period 2017-2019, trade with Spain exceeded 2 billion euros per year, with these values quickly recovering after the Covid-pandemic. Aggregate figures for 2022 are still awaited, but it is expected to surpass all previous ones with trade growth of over 50%. "The data show the serious potential we have in many areas. Spain is a gateway to Latin America, and Bulgaria can be a logistics center for both the Balkan region and the Middle East," emphasized Minister Stoyanov.
He emphasizes some of the sectors that have been developing at a rapid pace in our country in recent years - information and communication technologies, electronics, chemical industry, agriculture, etc. "We also see a serious potential for partnership in the automotive sector, which is also well developed in Spain," the economy minister added. At the moment, 9 out of 10 cars in Europe have parts produced in Bulgaria, and the sector has been developing at a tremendous speed in the last 20 years, it became clear from his words.
Special attention was paid to the industrial zones of Bulgaria. "Our country has low levels of unemployment, but it is unevenly distributed among the regions. That is why we will initiate the creation of new industrial zones in areas with higher unemployment, and this will encourage the entry of new investments, and companies will not face great difficulties with personnel", Minister Stoyanov explained. However, he emphasized that Bulgaria is interested in attracting investments that will add value to its economy. "We have passed the stage where quantity was important. Today, the most important thing for us is quality. Therefore, we are looking for companies that will provide added value and high incomes to those employed in them," said Nikola Stoyanov.
"The relationship between our two countries is at a very special moment," stressed Xiana Mendes, Secretary of State for the Ministry of Industry, Trade and Tourism of Spain. She drew attention to the fact that the bilateral trade has recorded record values and expressed confidence that even better results will be achieved with more such events. According to her, Bulgaria has a strategic importance for Spain, which has increased even more after the start of the military conflict in Ukraine. "With all the reforms being carried out, Bulgaria is becoming more and more interesting for foreign investments," said Mendes.
Spanish companies have opened more than 3,000 jobs in Bulgaria, emphasized in his speech the ambassador of Spain to Bulgaria H.E. Alejandro Polanco. More than 25,000 Bulgarian students study Spanish, and over 200,000 of our compatriots live in Spain, it became clear during the forum. These are serious prerequisites for promoting economic ties between our two countries, the Spanish diplomat emphasized.
The participants in the forum united around the opinion that our country is becoming more and more attractive for foreign investments and joint projects, as its geopolitical situation can turn it into a key logistical location for the reconstruction of Ukraine, after the end of hostilities.
The forum was attended by the Secretary of State for Trade at the Ministry of Industry, Trade and Tourism Xiana Mendes, the Ambassador of Spain to Bulgaria H.E. Alejandro Polanco, the General Director of the Chamber of Commerce of Spain Inmaculada Riera, the General Secretary of CEOE José Alberto González Ruiz, as well as representatives of Spanish companies from various sectors of the economy.