With the expansion of the gas connection, Bulgaria can provide more than half of the fuel consumption for North Macedonia
The gas transmission operators of Bulgaria and North Macedonia signed an interconnection agreement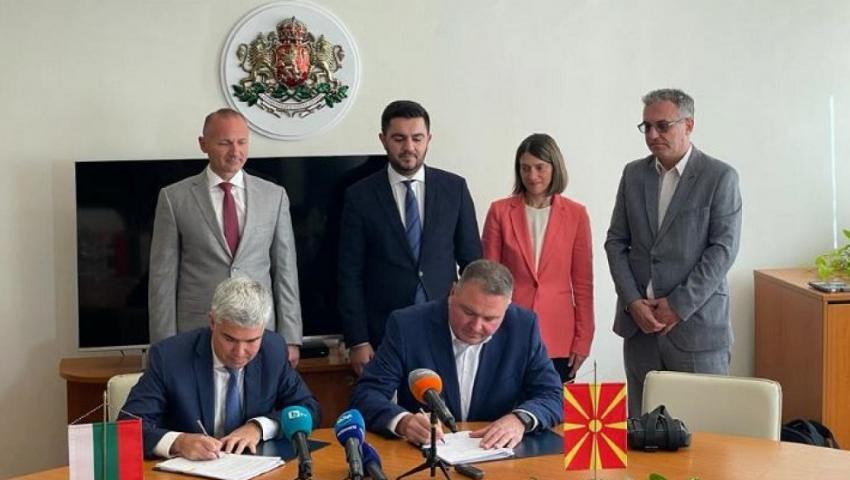 In the presence of the Minister of Energy Rosen Hristov and the Minister of Economy of the Republic of North Macedonia Kreshnik Bekteshi, the Bulgarian gas transmission operator "Bulgartransgaz" EAD and the operator of the gas transmission system of the Republic of North Macedonia "GA-MA" AD signed an agreement on interconnection for the Kyustendil/Zhidilovo point .
The agreement is of key importance for the diversification and increasing security of natural gas supplies in North Macedonia, for which Kyustendil/Zhidilovo is the only entry point for natural gas supplies. The Republic of North Macedonia does not have its own gas deposits and storage for natural gas and relies entirely on the transmission through Bulgaria to guarantee the necessary quantities of gas for the country.
"This document is the result of long-term cooperation between us, and by signing it, our neighbors will have additional opportunities to diversify sources and suppliers of natural gas," Bulgartransgaz Executive Director Vladimir Malinov said during the ceremony. "The agreement is a real step towards the liberalization of the gas market, which is of key importance for providing cheaper natural gas for our customers", stressed the executive director of GA-MA AD Alexander Arsich.
The signing of the agreement becomes possible after the considerable efforts made by the teams of both operators to create clear and transparent rules and procedures for requesting and distributing quantities. The document creates an opportunity for new participants to enter the gas market in North Macedonia.
The Kyustendil/Zhidilovo interconnection point is not new, but the agreement foresees an increase in the technical capacity for gas transmission to North Macedonia by 500 thousand cubic meters per day (from 2.5 to 3.0 million cubic meters per day) or an increase by 182 million cubic meters per year. The country's annual consumption is about 300 million cubic meters.
Thanks to the cooperation between "Bulgartransgaz" EAD and "GA-MA" AD, the Republic of North Macedonia gets an opportunity to diversify natural gas supplies. The opportunity to access a liquid, transparent and non-discriminatory market on the trading platform of "Gas Hub Balkan" EAD is expected to cause interest among market participants.
Through the well-developed gas infrastructure of Bulgartransgaz and interconnection with all neighboring countries, market participants (traders and consumers) in North Macedonia are provided with access to significant quantities of gas from alternative sources - the liquefied gas terminals in South-Eastern Europe, as well as pipeline gas from Azerbaijan and other alternative suppliers.
In addition, North Macedonia will have the opportunity to benefit from natural gas storage services in the Chiren underground gas storage facility, which is a prerequisite both for creating natural gas reserves and for achieving optimal gas prices with flexible portfolio management of supplies.
The signing of the interconnection agreement for Kyustendil/Zhidilovo will contribute to market integration between the two countries and deepen cooperation in the energy sector.