Strengthening economic ties between Bulgaria and Saudi Arabia discussed by Deputy Prime Minister Ninova and Minister Faisal Alibrahim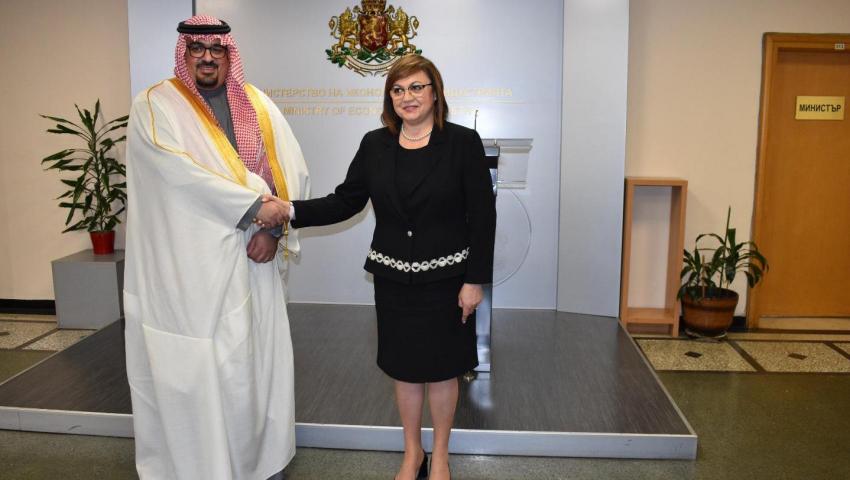 To intensify contacts at the company level, exchange business delegations and participate in fairs and exhibitions in both countries, Deputy Prime Minister and Minister of Economy Cornelia Ninova agreed with HE Faisal Alibrahim, Minister of Economy and Planning of the Kingdom of Saudi Arabia. Work is also under way to establish a Joint Commission for Economic Cooperation.
In 2021, bilateral trade between Bulgaria and Saudi Arabia will reach a significant growth of nearly 90% compared to 2020, it became clear during the meeting, according to the press center of the Ministry of Economy.
Trade and economic relations between the two countries are traditionally good and Bulgaria attaches great importance to opportunities for their development. "Our country wishes to actively develop its economic relations with the Kingdom of Saudi Arabia and welcomes the current visit," said Minister Ninova.
"Saudi Arabia wants to take advantage of untapped opportunities with partners and friends like Bulgaria," he said. Faisal Alibrahim.
The Saudi side is working to establish a Joint Commission for Economic Cooperation (JCEC), and the establishment itself could be done by convening the first session of the JCEC and signing during the first meeting of a bilaterally agreed document-status of Bulgarian-Saudi intergovernmental JCEC.
During the meeting, the parties also agreed to sign an Agreement on Promotion and Mutual Protection of Investments between Bulgaria and the Kingdom of Saudi Arabia.
The two countries identified areas of mutual interest, including road construction, agriculture, infrastructure, tourism and more. There are good opportunities to increase Bulgarian exports to Saudi Arabia in areas such as: food industry, including meat (lamb, sheep, beef, chicken), honey, dairy products; pharmaceutical industry; Toiletry and Perfumery; electrical equipment, machine-building products, engineering goods and services; building materials; agricultural products and woolen textiles, specified by the Ministry of Economy.
The visit of HE Faisal bin Fadel Alibrahim is part of his tour of Eastern Europe. The meeting was also attended by Dr. Naif Bin Asai, Chargé d'Affaires of the Embassy of the Kingdom of Saudi Arabia in Sofia, Minister Plenipotentiary, Bandar Al Kamis, Deputy Minister of International Economic Relations, Zayed Alzaid, Director General of the Executive Office of the Minister of Economy and Planning and Sarah Alcazzi, adviser to the Minister of Economy and Planning, added