Minister Pulev: We can cooperate with Israel in the fields of artificial intelligence, deep technological innovation and cyber security
The ministers of innovation of Bulgaria and Israel discussed signing a memorandum to protect investments and support initiatives for innovation, space technologies and artificial intelligence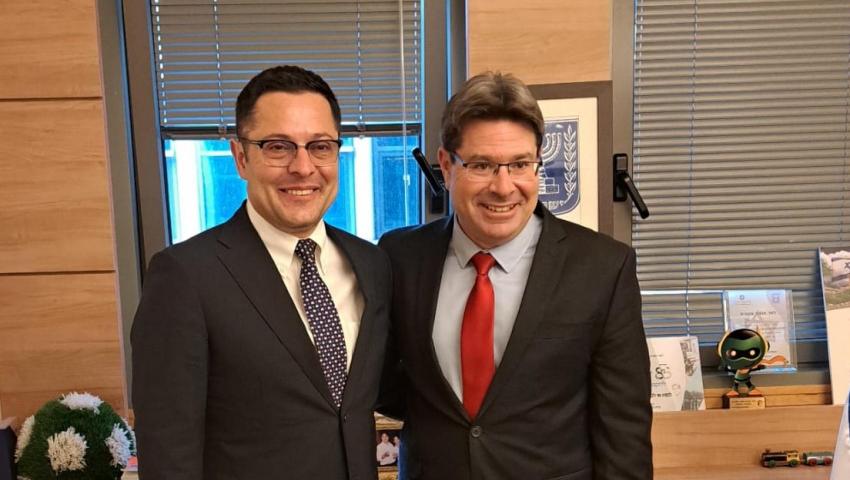 Bulgaria and Israel can cooperate in the fields of artificial intelligence, cyber security and deep technological innovations. This became clear at a meeting between the Minister of Innovation and Growth Alexander Pulev and the Minister of Innovation, Science and Technology of Israel Ofir Akunis, which took place in the Israeli Parliament - Knesset, in Jerusalem.
The two ministers also discussed the signing of a memorandum to protect investments and support initiatives for innovation, space technology and artificial intelligence, with which to strengthen bilateral economic relations between the two countries, the Ministry of Innovation and Growth announced.
Minister Akunis expressed his desire to strengthen cooperation with Bulgaria in the field of science, as well as in the exchange of students. Pulev, for his part, pointed out that our country is in the top 3 of every international competition in physics, mathematics and computer science.
Minister Pulev introduced his colleague to the first of its kind Institute for Computer Sciences, Artificial Intelligence and Technologies in Eastern Europe - INSAIT. "The institute was established in our country in partnership with two of the leading technological universities in the world - the Swiss polytechnics ETH Zurich and EPFL, Lausanne, and works in close cooperation with the Israeli elite Technion University." Pulev said that Prof. Eran Yahav (teacher at Technion), who is also a member of INSAIT's Supervisory Board, gave a lecture at the Institute two weeks earlier. He also pointed out that the Institute has the honor of working with the winner of the Nobel Prize for Chemistry and the driver of the Israeli startup revolution, Prof. Dan Shechtman. He was also a special guest at the official opening of INSAIT nearly a year ago.
The Minister of Innovation and Growth pointed out that Bulgaria can become a regional hub for the flow of digital information from Asia, and our country is key to its transmission. "We signed a declaration with the US government that aims to improve the quality of the digital infrastructure in Bulgaria with a focus on cyber security. At the level of countries, we have united around a common key position in relation to 5G security," he also said. The minister emphasized that Bulgaria needs a reliable strategic partner to support the initiative for the upcoming development of the cable system for data transmission in the Black Sea.