Maritsa East Mines is looking for a future in CO2 capture, storage and processing technologies
The company proposes the creation of an expert technical council to consider the options for capture, storage and processing of carbon dioxide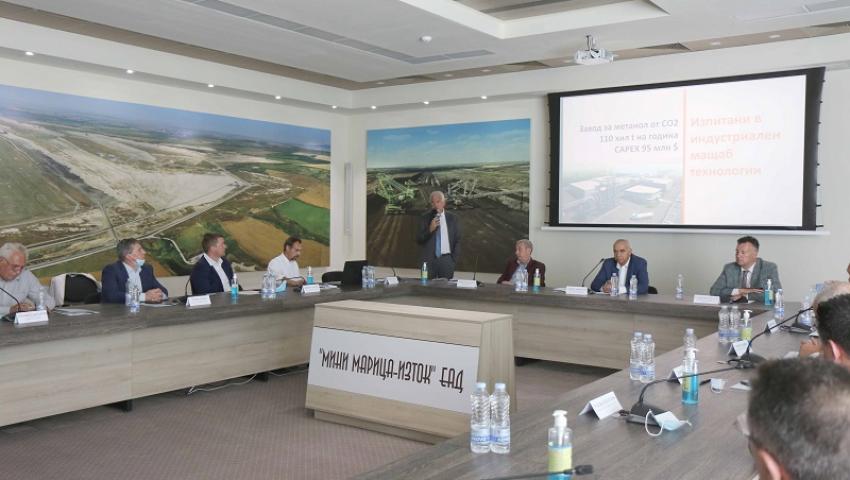 Maritsa East Mines insists on the establishment of an expert technical council at the Council of Ministers, which will consider all available technologies related to the capture, storage or processing of carbon dioxide. This is stated in a declaration to the President, the Prime Minister, the Deputy Prime Minister for Management of European Funds and to the Ministers of Economy and Energy, signed by the Executive Director of Maritsa East Mines EAD Andon Andonov. The declaration is an appeal to the responsible state bodies for support in the search for innovative projects that will give a future to the Maritsa East complex, while meeting all European requirements.
The declaration with 23 signatures is a result of the meeting held on the initiative of Andon Andonov on September 13 in "Maritsa East Mines" EAD, where the possibilities for the future of the mining and energy complex were discussed.
It was attended by the Deputy Minister of Energy Miroslav Damyanov, the Chairmen of the Energy Committee in the Parliament - Ivan Hinovski and the Social Committee - Georgi Gokov, MPs Tihomir Tenev, Georgi Kadiev, the Executive Director and the Chairman of the Board of Directors of Bulgarian Energy Holding EAD. Valentin Nikolov and Diyan Dimitrov, the regional governor of Stara Zagora Ivan Cholakov, the mayors of Stara Zagora, Radnevo, Nova Zagora and Galabovo, the executive directors of the three thermal power plants in the complex Ivan Tsankov, Zhivko Dinchev and Krassimir Nenov, the rectors of Thracian and Minno -Geological University Assoc. Prof. Dobri Yarkov and Prof. Ivaylo Koprev, the representatives of the Technical University Prof. Valentin Kolev and Prof. Georgi Todorov, the President of Podkrepa CL Dimitar Manolov, the President of FNSM Valentin Valchev and energy specialists.
All participants expressed their concern and support for securing the future of the Maritsa-East mining and energy complex and preserving the livelihood of the people of the region.